Do you struggle with the mess? Can't seem to keep things organized? Or perhaps your belongings just have a mind of their own? We understand the struggle. That's why we've handpicked the ultimate storage solutions to breathe new life into your living space. Dive into our treasure trove of bathroom, bedroom, and kitchen organization gems. No matter if you're sharing your home with roommates, loved ones, or a lively bunch of youngsters, our tried-and-tested tips will undoubtedly simplify and enhance your domestic life.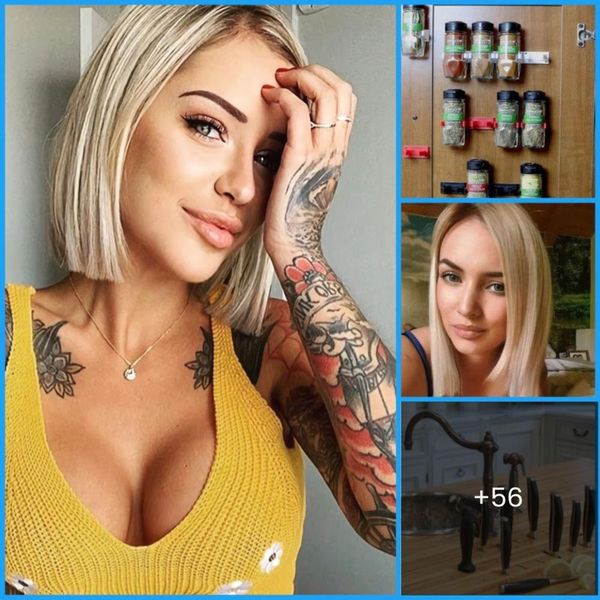 Looking for something to codify your cables? Bread clip tags are the new in!
Whether you work from home or just use home devices for entertainment, one thing nearly everyone can relate to is the charging cable tangle. If you, like so many of us, struggle to keep those pesky cables organized, you might be surprised at this simple trick.
Try taking one of those plastic clips from a used bread bag, attaching it to the base of your cable, and writing a simple label in Sharpie. Problem solved! You won't have to worry about those tangled cords again, and as an added benefit, you have now found a way to recycle those tiny plastic bags which otherwise might end up in the bin.
Struggle with losing hair ties? Carabiners to the rescue
Do you appreciate the rugged, outdoorsy look for your gadgets? The carabiner has been used for a variety of things, from key chains to paper clip holders. Next time you let your hair down after a long day, think about slipping your hair tie onto a carabiner as well.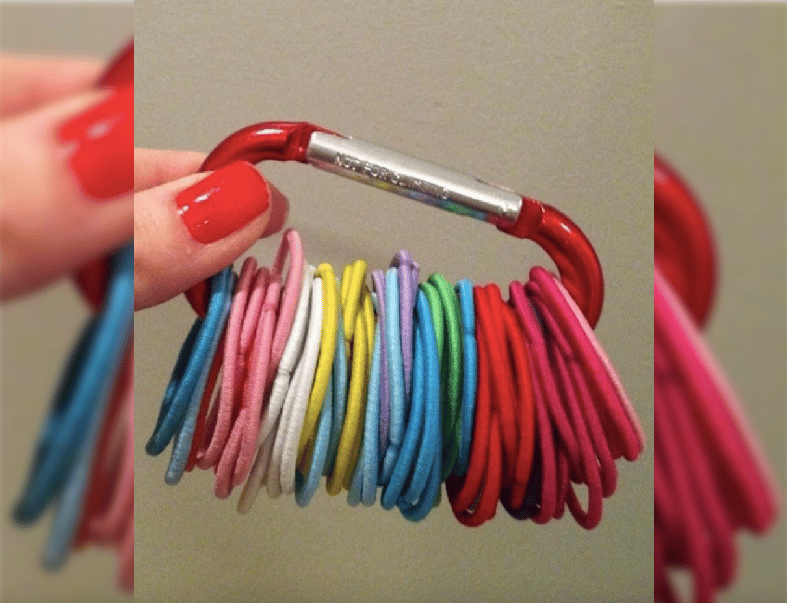 Now, you have a colorful array ready for use which can be clipped anyway, from your car mirror to your purse. You won't have to worry about losing all those little hair ties anymore as they will be right there, ready at hand when you need them.
Kitchen Organization Hack
Something I have always struggled with is figuring out where to hang dish towels. On the oven handle? Sure, but it drags on the floor when you open the oven. Over a chair? Could do, but who wants to lean on a wet towel when they sit down for dinner?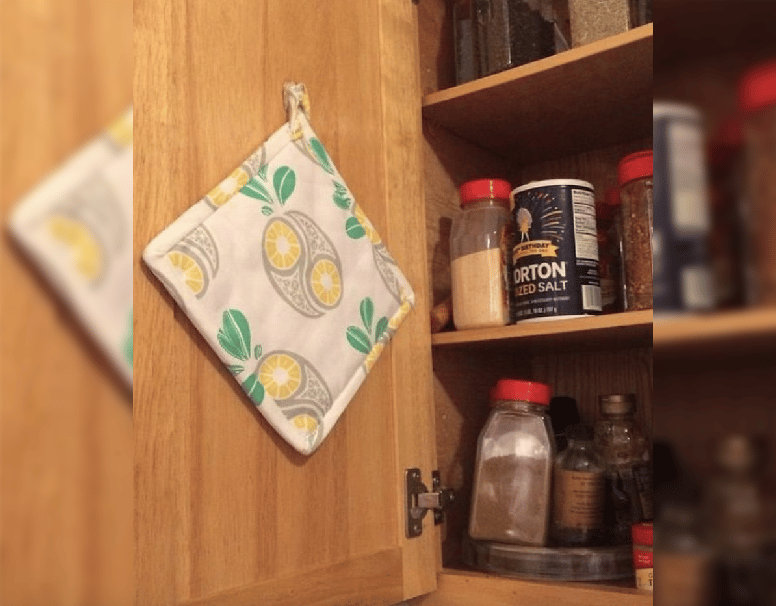 I have finally found a perfect solution: a simple hook hung on the wall will take care of kitchen towels, pot holders, and any other miscellaneous items you need to get out of your way. Not only that, but if you have nicely patterned kitchen towels, they can double as kitchen decor as well!
Two for one: shoes and boxes
Two things which can really clutter up a house are used cardboard boxes and piles of shoes. A simple way to solve both of these problems at once is to use the cardboard box as a shoe organizer. Grab a tall cardboard box, make some simple cardboard cutouts which can fit one shoe in each one, and slip those shoes right in.
This is an easy way to keep your shoes out of the way. Not only that, but if you, like many of us, have a large collection of shoes for every occasion, this provides an easy way to store them: simply stack the boxes in your closet!
It's a matching set
Do you, like me, struggle to organize your linen closet? Maybe you have a guest coming to stay, but just can't find the pillow cases to match those striped sheets! An easy way to both solve this problem and make storage easier is to store matching sheets inside the pillow cases.
Simply stuff that striped pillow case with the clean striped sheets and you can grab it all once when you need to make up the bed. Preparing for guests, or even just doing your own weekly house cleaning, has never been easier. An added bonus is that you can display all those nice pillowcase patterns right there on your shelf.
Revolutionize your cleaning drawer
Many of us struggle to sift through the stacks of bottles lined up under the sink or in a drawer to graph cleaning supplies. Maybe your pet has just had an accident and you're racing to find the stain remover before it sinks into the carpet, but you just can't get through the sea of bottles hiding the one you need!
Try getting an over-the-door shoe organizer and putting one bottle in each pocket for quick and easy access. The labels will be on display so you will never have to grab bottle after bottle as the stain leaks further into your carpet. Just grab the one you want and, when you're done, stick it right back in the pocket for next time.
What's colorful, fun, and great for kids? Not only fruit, but bath toys too!
Grab a hanging fruit basket the next time you're at the store if you are tired of pulling foam letters, tugboats, and rubber ducks out from underfoot every time you shower. Kids are notorious for having a great time pulling every toy from their arsenal out, but forgetting to clean up after themselves.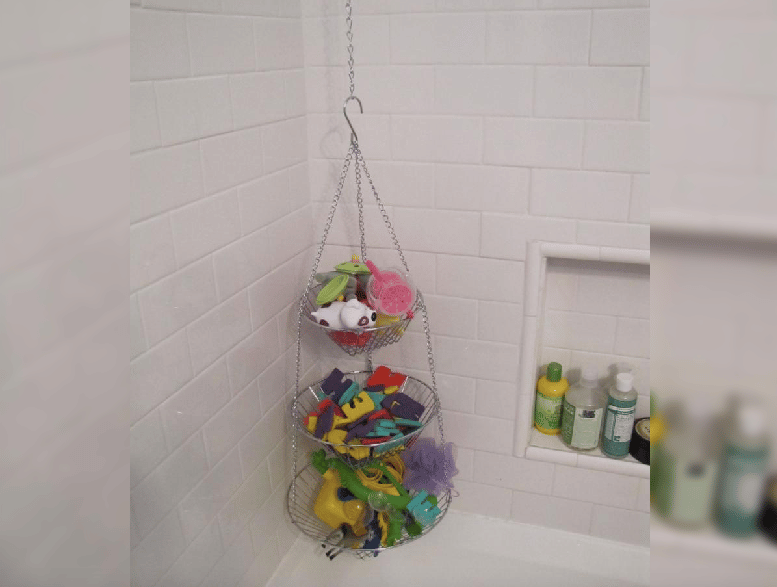 Next time your child has fun in the tub, clean up will be easy – simply toss the bath toys into the tiers of the fruit basket. This is not only easy to clean up, but also easy for kids to grab when they want that specific plastic submarine next bath time.
Never ruin another game night with a missing piece
Board games and puzzles are so much fun, but an easy way to ruin game night is to find out you are missing that pivotal piece. To solve this problem (and keep yourself from finding that missing lego piece with your bare foot in the middle of the night), try getting a plastic storage bin organizer and stashing a game in each bin.
Even better, you can easily label these with fun markers and a strip of masking tape. This personalized game drawer will be fun for the whole family, and it is so easy to put the games away in the labeled boxes that even the kids will be able to help with cleanup.
Mix and match lock and key
When you're in a hurry to lock up, there is nothing worse than struggling through your keychain to find the right key. Or maybe you have to open that luggage lock you haven't used in ages, and can't find the key. You try to access your storage unit, but sifting through the small keys on your keychain to no avail leaves you annoyed.
A simple way to solve this problem is by color coding the locks and keys. Use a color ring from your local shop, or, if you prefer, even a smudge of nail polish or a sharpie circle will do the trick! You'll never be left wondering what key matches which lock again.
Everything in its place: the KonMari method
There are so many different ways to organize your house that it can be hard to find the best one for you. You can read books, articles, blogs, and more all about this topic. One of the best ways of organizing your house that I have used, though, is the KonMari method.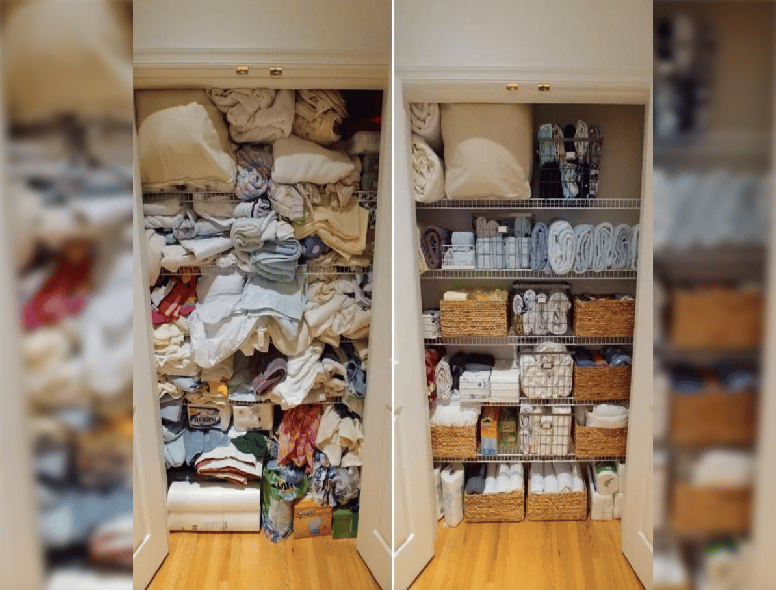 This is not only a great method to organize the things you have, but also a way of cutting out those things you may not need. The KonMari method focuses on items by category.
Go through each room in your house and gather like things. These can then be stashed together, which will also allow you to weed out any extraneous items. You'll be left with less clutter organized in a better way.
Finding a matching pair: earring edition
Picture this: you are getting ready to go out. You have found the perfect earring to match your outfit, but there's just one problem: you can't find the other one. You search and search, but the little jewel is nowhere to be found, and now you're late to your party!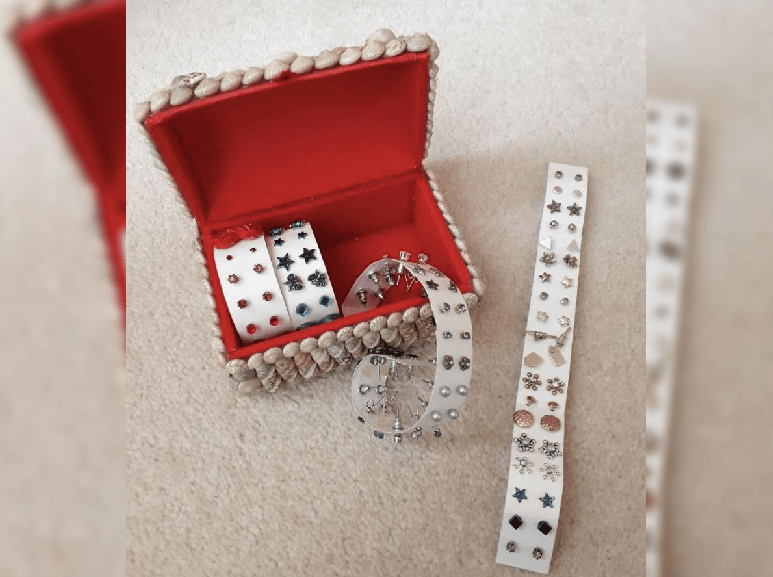 To avoid encountering this issue again, try cutting out long strips of paper and pinning your earrings to it in pairs.That way, your earrings will be well organized and you'll never struggle for a match again. Plus, you now have a pretty way to display your jewelry in your room.
Reusing tissue boxes
Do you ever wonder what you can do with an empty tissue box other than recycle it after use? Similarly, what can you do with all your plastic bags after you've emptied out your shopping? With the mantra 'reduce, reuse, recycle' circling the world, it can feel bad to throw these things out.
Luckily, there is a simple solution which not only allows you to reuse these items, but also makes your life easier! Attach the tissue box to the inside of a cabinet door and stuff those plastic bags inside. Next time you need a plastic bag, it will be right here waiting for you.
Blackboards: not just for school anymore
I used to write my grocery lists on little scraps of recycled paper. The problem with these is that they were easy to lose, and often ended up turning up left in pockets in the laundry or falling behind the fridge. Pulse, I often ended up forgetting vital things we needed from the store.
Well, that never happens anymore now that I have a blackboard wall in my pantry.
Whenever I notice that we are running out of something, I can just pop it on the blackboard. The best thing is, I never have to deal with little scraps of old lists cluttering up my kitchen.
The unassailable plastic storage box
Plastic boxes are some of the most common and versatile storage units around, but many of them share a common problem: weak handles and latches. Picture this: you are just finishing a pick reorganization and cleaning project and are putting the final box into place, when the handles break. The stuff in the box is now strewn all over, and you not only have to clean it up again, but also need to find a new storage box.
If you have ever encountered this problem, you can fix it with this easy solution. All you need is a small drill and some cable ties. Drill two holes through where the handles are, slide a cable tie through, and voila. Fortified, strong boxes which won't break under pressure.
Cardboard to keep your yarn organized
In these recent times, you, like so many of us, may have decided to try your hand at something new. Many of us have turned to crafts we can do with our hands. Not only do these activities keep us engaged, but they also produce something fun to display around the house afterwards.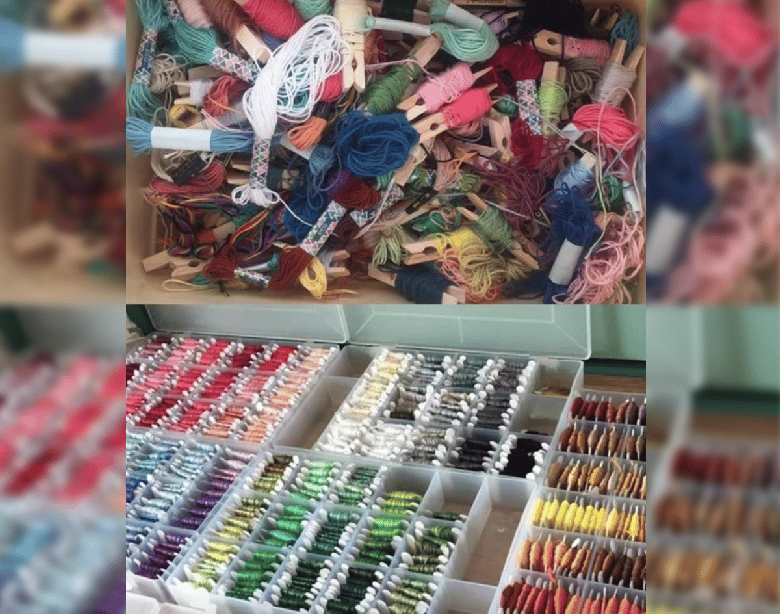 If that craft happens to be embroidery, you may have found it hard to keep all of your different yarns organized. If so, here is a failsafe method: just take a piece of cardboard, wrap your yarn around it, and then cut a slit in the cardboard's side for the end of the yarn. You'll never struggle to sort it out again.
Coat hooks are good for more than coats
If you have ever struggled with shoe storage, here is a great idea to boost your closet organization. Instead of leaving your shoes in a messy pile on the floor, try installing coat hangers on the wall. When you get home from a muddy walk or a long day out, simply slide off your shoes and stick them on the coat hangers.
You could even organize this in specific ways, assigning a certain type of hanger for each member of the family. This can make organizing fun for kids, as they will want to hang their shoes only on their own specific hooks. Give it a go to clear up your cluttered front hallway!
Photographed shoe bins
Another way to store shoes is in plastic bins, but do you ever have to open bin after bin looking for that certain pair and keep finding the wrong ones? A sure way to solve this problem is by putting a photo of the corresponding show onto the side of the bin. That way, you'll get it right every time, and storage will be made much more simple.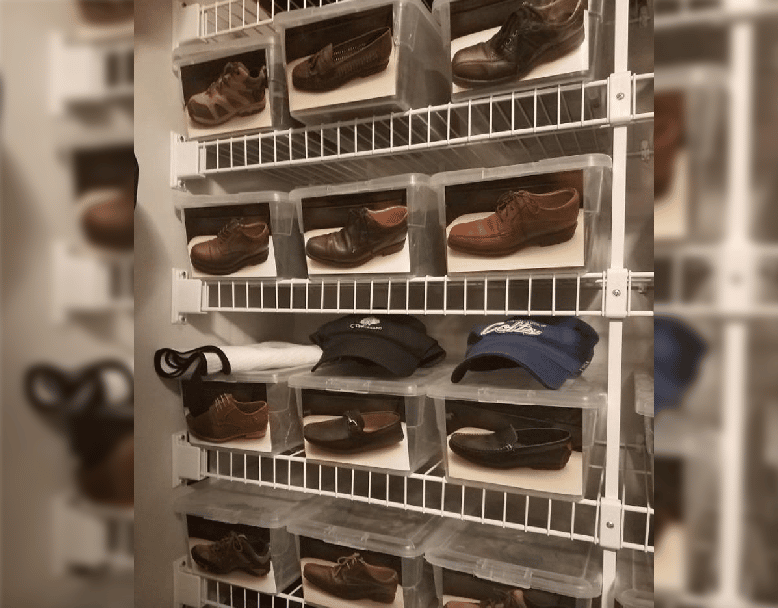 Like the other method, this can also make it fun for the kids. They can even try drawing their shoes on the labels, combining a fun family craft with your reorganization project. This will guarantee a clutter-free closet and front hall, especially when the family all get involved.
Bathroom spice racks? Bring it on
If you, like me, have a jumble of products, bottles, and other miscellaneous items on your bathroom sink and in the drawers, it may take longer than necessary to get ready every morning as you sift through the piles. Where did I put my hairbrush? I can't find my mascara!
To make this easier, try this simple solution: install a spice rack on the bathroom wall. Now, all of your products are there on display and in easy reach. You'll never be late again because you spent too long looking for that specific makeup brush or hair spray because it will be right there on the wall.
The on-the-go trash can
The car is a place where you sometimes can't help yourself from having a little snack. Stuck in traffic? I think I'll chow down on this granola bar. Need a pre-workout snack after work? I'll eat an apple in the car. But, since there's no bin available, this car snacking can mean a pile up of trash.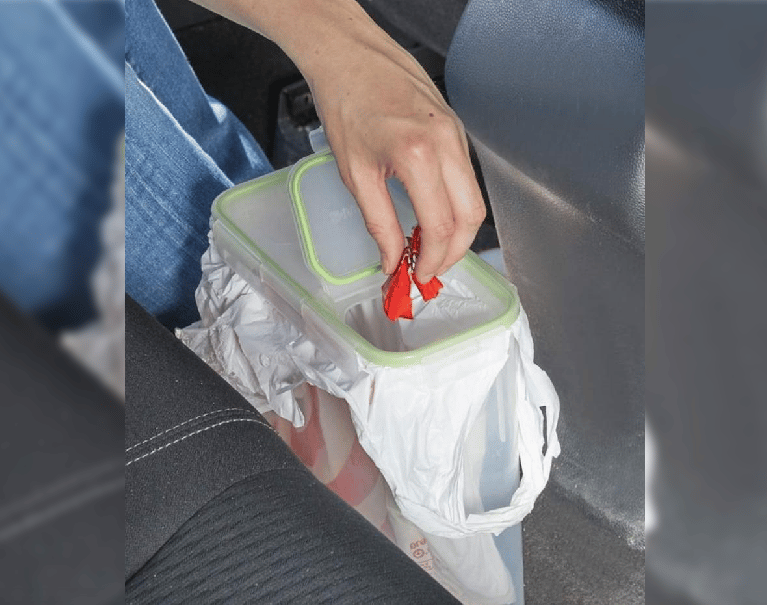 An easy way to keep your car clean and snack to your heart's desire is by using a cereal container as an on-the-go trash can. Simply stick a plastic bag in the box, close the lid, and you have a portable trash can. You won't have a trash filled car again.
Where's the tupperware lid? A question you'll never have to ask again
Picture this: you have just enjoyed a delicious meal and want to store the leftovers in the fridge for tomorrow. You have the food all stored in a tupperware, but wait…where's the lid? Does this scenario sound familiar? It does to me, too, and I struggled with a few different methods before finding an easy solution:
Try using a filing cabinet as a way to store those tupperware covers which have a pesky habit of disappearing and this problem will be a thing of the past. They will be easy to see both in terms of color and size, so you won't be left searching through the piles for the right fit.
Eliminating the leaning tower of plates
Do you ever find yourself hoisting up a heavy stack of plates to reach the one you need, which is inevitably at the bottom of the pile? Are you tired of heaving a huge, heavy pile of plates out of the way to get to the perfect one?
I used to, too, until I discovered this nifty trick.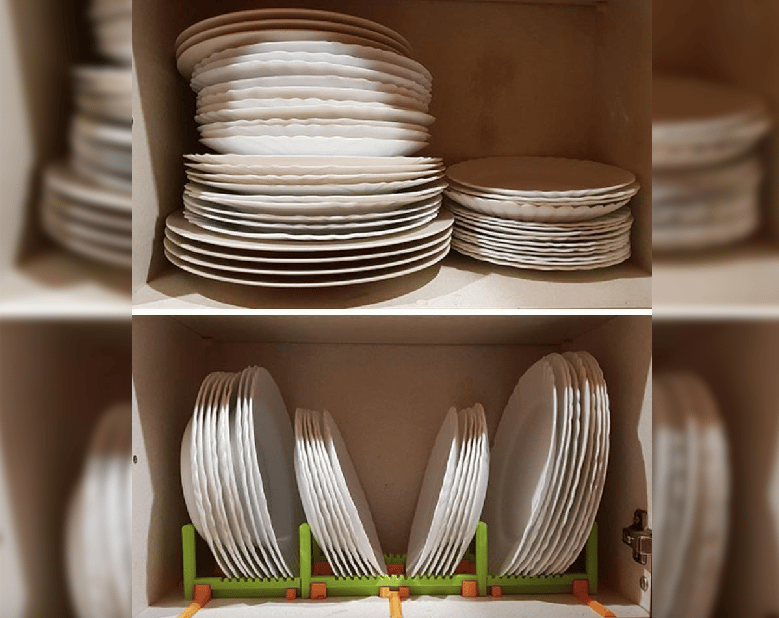 Rather than stacking plates in your cupboard, try using an extra dish rack as a way to store them vertically. This makes it so much easier to grab the one you want every time. Not only that, but clean up is easier, too, as you can just stick the plates right from the dishwasher on the shelf rack.
Safety for a dozen ornaments
What's very fragile and can be stored by the dozens? Not just eggs, but also Christmas tree ornaments. Saving an old egg box can make the holiday decorating much easier, as rather than sifting through wads of storage paper and bubble wrap, you can simply open up an egg carton and see all of your ornaments nestled safely waiting to be hung on the tree.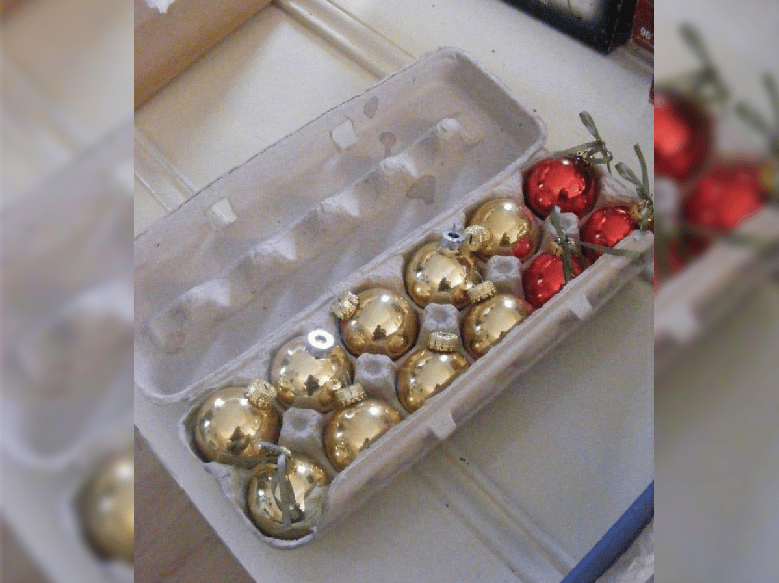 Even better, cleanup will be easier than ever before. Just take all those old cartons back out and stack your ornaments by the dozen. This takes away all the stress of careful bubble wrapping and storage tricks. The egg box hack is the easiest ever for ornament storage.
Pot lids on sticky hooks
Tupperware lids are not the only ones which have a habit of getting in the way or going missing. Those metal lids from pots and pans can also clutter up the inside of your kitchen drawers and it can always be hard to find the one you need when you have a pot boiling over on the stove.
An easy way to fix this is to store them on the kitchen cabinet doors instead. You can use some sticky hooks stuck to the inside door, pop your pan lid on those, and eliminate the extra hassle of sifting through for the right size for your pot.
The revolutionary hanging drying rack
Drying racks take up a lot of space, especially if you live in a small apartment. But, if you don't have a dryer to go with your washing machine, chances are you have one to dry your clothes. Rather than spending wash day skirting around the drying rack, try this organization hack: attach the drying rack to the wall.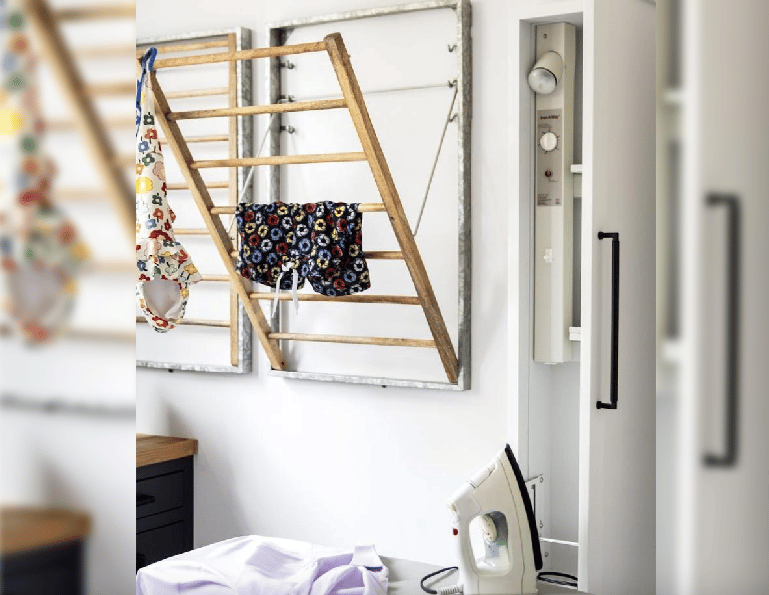 A simple hanging rack will change your laundry day forever. Forget about dancing around the drying rack in your kitchen or living room. Instead, hang them from the walls. This way, you will get your clothes out of the way and avoid taking up space in a small house!
Hardware labeling done right
If you are one of those people who enjoys a bit of construction work or a light project on the weekends, chances are you need a place to store your tools. Do you have a garage full of tools and equipment? Are you constantly sorting through boxes of nails, screws, and tacks trying to find the right piece for your DIY project?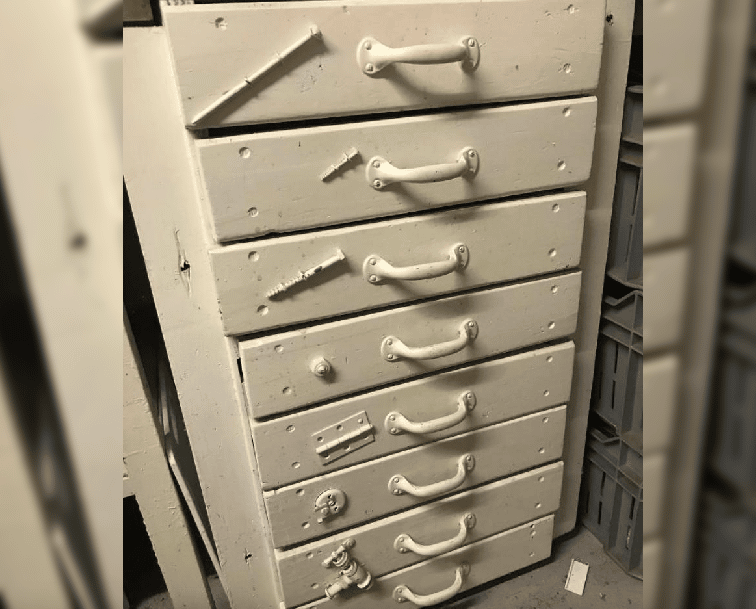 If so, try this nifty organizational project. Rather than wasting time wading through piles of mixed nails, get an old drawer set, paint it a nice color, and glue the corresponding tool type to each drawer. Finding the tool you need has never been easier.
Kitchen cupboard storage boxes
Having big kitchen cupboards can be great, until you need to reach that one thing in the back, behind everything else, and just can't do it. You have to remove everything from the cupboard just to get that gadget in the back, and then put everything back in to make space, then take it all out again to put the thing away again. Hassle!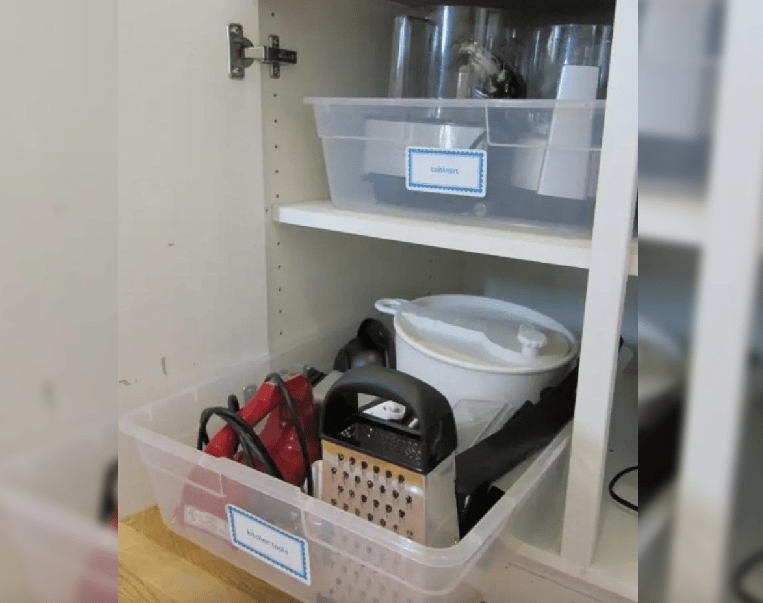 I have a solution for you: take some of those plastic tub storage containers, fill them with your kitchen gadgets, and slip them into the deeper cupboards. That way, when you need to grab that bowl from the back, you need only slide the tub out to access it.
Pantry labels
Having a pantry is great, but one thing about all that storage space is that it can get pretty packed with jars, cans, and food bags. An easy way to avoid this jumble is to invest in some plastic or glass containers and label each one with a sticky note.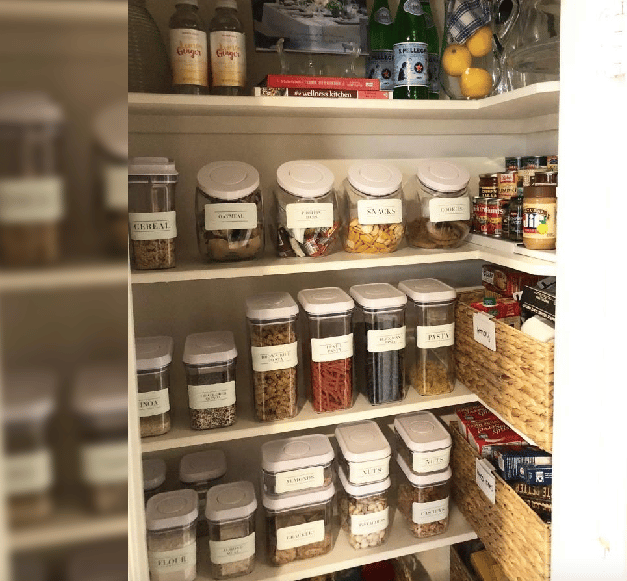 Next time you reach for the flour, it will be labeled clearly and in easy reach! Even better, if you use this method you will be able to clearly see what is running low when it's time to do a grocery run, so you won't run out of pantry essentials.
Baking sheet storage
One kitchen item which can be an awkward shape to store is the baking tray. Large, flat, rectangular metal sheets do not easily slot into most places. An easy solution to this is to use a dish drying rack to slot each baking tray into place.
This way, each one will be out of the way and easy to grab when you need it. This will help not only the avid baker, but anyone who spends a lot of time in the kitchen. Further, you will never have the problem of all your stove trays falling out on you when you open up a drawer.
The work-from-home office cabinet
As more and more people are starting to work from home, it can sometimes be hard to find a place to store all the papers, folders, and files that used to be kept in the office. You don't have the same amount of desk space, or a full office to yourself in which you can add shelves and piles of important papers.
To avoid cluttering up your kitchen counter or dining room table in your home office, try clearing some shelves specifically for this purpose. Now, you can store all of your work related items in the same place, and turn your home office into a closer version of your work office.
Tube filled wires
Do you struggle with finding out what to do with used toilet paper and paper towel rolls? Do you feel bad just throwing them away and want something to do with them? In this modern world, nearly everything is electronic, and nearly everything comes with a cable (or even two).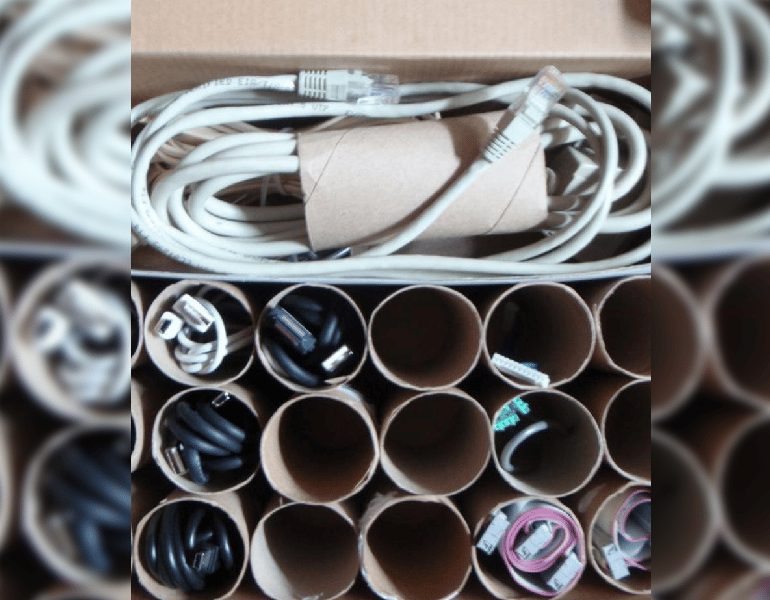 Organizing everything, from your phone charger, to ethernet cable, to camera cable, and so on, can result in a big tangle of wires. A cheap and easy way to solve this problem is to save up old toilet paper rolls and use them to store each wire. That way, you not only sort out the cables, but also those used rolls.
The binder clip cable holder
Let's come back to the cable organization hacks. Once those wires are actually in use on your desk, it can be hard to keep them in order. If you have three or more electronics charging on your desk and the chargers fall, you can end up with a coil of cable underfoot.
To prevent this, try using a simple binder clip to hold those chargers up. Attach the clip to your desk and slip the charger through, and you won't have that problem again. Even better, it will be easier than ever to grab that charger when your battery is running low!
The backpack station
If you have kids, you know that often their belongings can end up strewn everywhere. This is especially true of backpacks. The kids get home from school, the backpacks get thrown to the ground, and organization goes out the window. You look at your cluttered front hallway and shake your head at the idea of cleaning up after your little ones yet again.
To fix this, you can create the backpack station: a chalkboard wall can display each child's name, and each one can have their own special hook to hold their bags. If you want to go a step further, you can even put their photos above their bags and have them write their own names – get them involved in the plan too!
The hidden charger
You, like me, may like to charge your devices at night. Many of us keep those devices close at hand, which can lead to a big pile of cables on your bedside table. If you don't mind a bit of DIY and have the tools at hand, this can easily be fixed.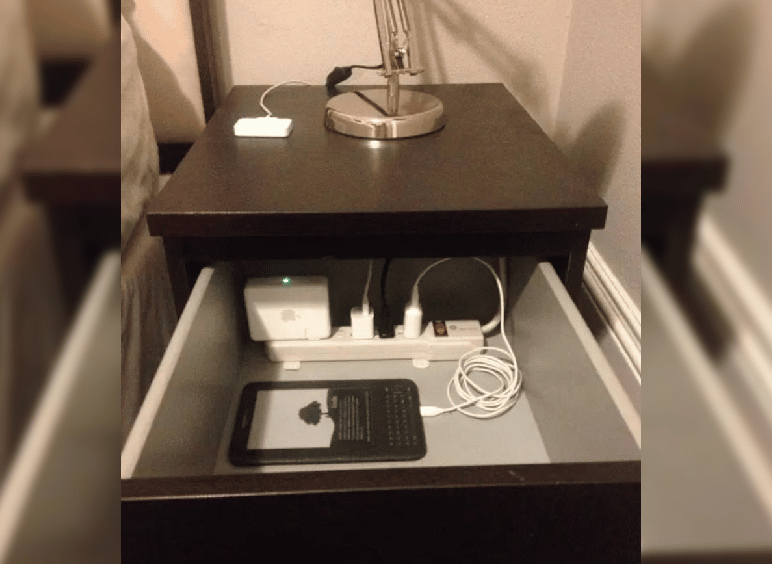 Simply drill a little hole into the back of your bedside table, pass a multi-charging station cable through it, and set up the charger inside a drawer. Now, you'll have everything close at hand and at full battery power all night long.
The vertical fold
Often, the storage of cloth items, from clothes to sheets to towels, involves folding and stacking. Often, this means that lesser used items can be lost under the piles. There is a better way, however, to be able to see everything in the drawer at once: folding and lining each item up vertically.
That way, you will have a full view of each item in the drawer or on the shelf. You will always be able to see exactly what you have available, and it will keep your drawers looking nice and neat at all times. You can even color code items if you want to go to the next step!
DIY door storage spice rack
If you are into easy DIY projects and are looking for a better way to store your spices, consider this easy back-of-the-door spice rack. This is a good one because it uses up space which otherwise generally goes unused and does not need to take up more countertop room.
The back of the door provides a project spot of unused space, ready to be built into a perfect rack for your spices and condiments. All you need is a bit of spare wood, a hammer and nails, and a saw, and you will be able to create this rack.
Try making an "eat me first" section
Much of our food ends up being wasted, and a key reason why is that it simply goes rotten in the fridge before we get a chance to eat it. A simple way to avoid this is to create an "eat me first" drawer in your fridge where you store food that needs to be eaten first or will go off or out of date sooner.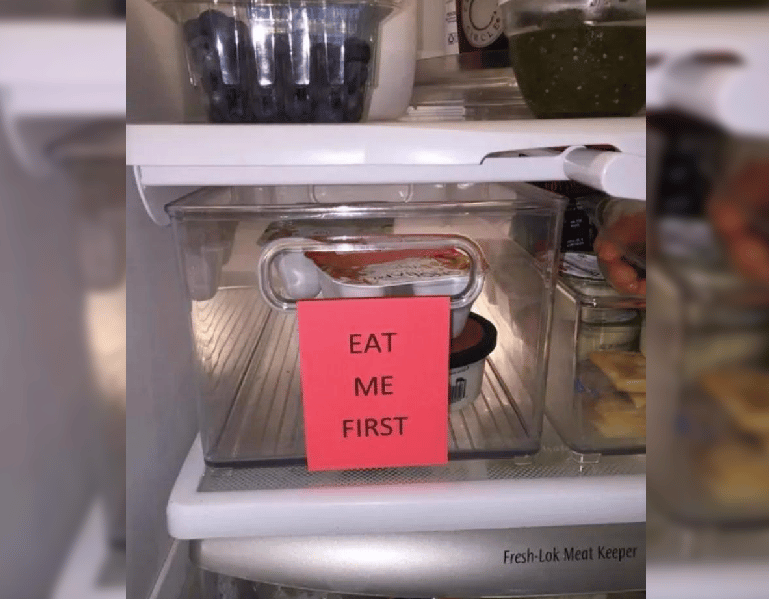 That way, those take out boxes, fresh fruit and vegetables, or even that bag of chicken with the close expiry date will not be forgotten in the back of the fridge. Instead, they will be used up right when they should. This can also save you money, as you won't have to shop as much if you use all that you have!
Good old fashioned labeling
It's well known that labeling different items is a good way to keep track of your things. This is an especially good idea when organizing your and your loved ones' important documents. Who wants to spend time searching for their birth certificate or social security number when you need it right now?
To solve this problem, try creating a filing box or cabinet and labeling each important item in your life. You can even color code the files so that each person, be it just you, a significant other, children, or your pets, has their own specific filing box.
The washing machine whiteboard
Does this shirt need to be washed in the 'delicates'? What about this jacket? Can these colors be washed together? Not to mention the 'unmentionables', which can often get damaged in the heavier washes. Often, when different items all need to be washed different ways, it can be hard to remember everything.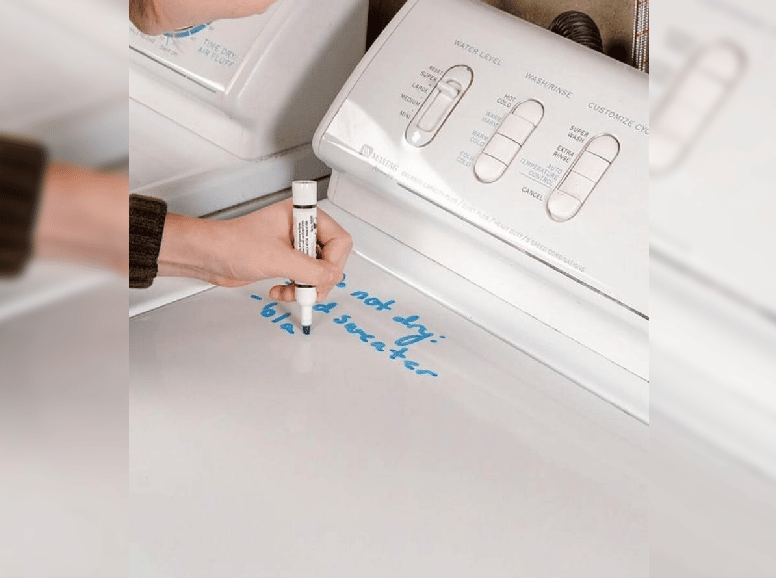 This is where a simple hack comes in handy: did you know that you can write on the top of the washing machine? Keep notes on how each special item needs to be washed so you never forget again. Your clothes will thank you (and so will anyone else whose laundry you do!)
Hang those pots and pans
Do your pots and pans have holes in the handles? These aren't just for show. Instead, they can help you to organize your kitchen so that it is not only more spacious, but also everything is more readily usable. Just attach some hangers onto the wall and hang up your pots and pans to avoid clutter.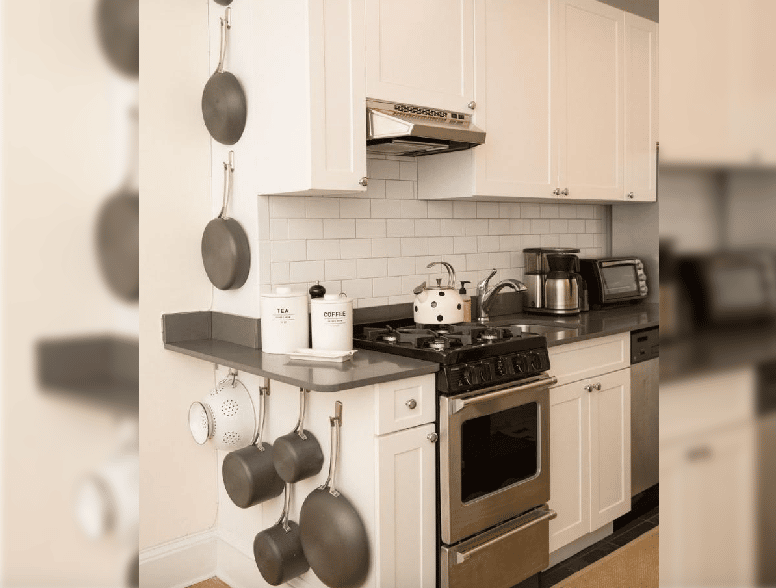 An added benefit to this storage method is that it can double as a decorational method. Does that wall look especially blank in your kitchen? Does there seem to be something missing by the stove? Not a problem anymore! Hang some hooks and adorn it with your favorite pots and pans for some functional decor.
The organized attic
Does your attic look like mine, with piles of boxes and miscellaneous items haphazardly stacked everywhere? If so, it might be time to invest in some shelving units. Adding shelves to your attic is an easy way to ensure that your storage is neat and well organized, especially since each shelf can be specifically tailored to fit a specific item or type of item.
This is an especially useful method for storing those things which are only used a couple of times a year. For example, seasonal sports gear like skis and poles or inflatable rafts can have their own box, as can holiday decorations, ornaments, and wrapping papers.
Trash bag dowels
Rolled up trash bags are notorious for rolling into the back of the cupboard and unfolding into a mess of plastic when not in use. Believe it or not, there is a simple solution to this annoying problem: simply install some dowels underneath your kitchen cabinet and slide your roll of garbage bags onto them.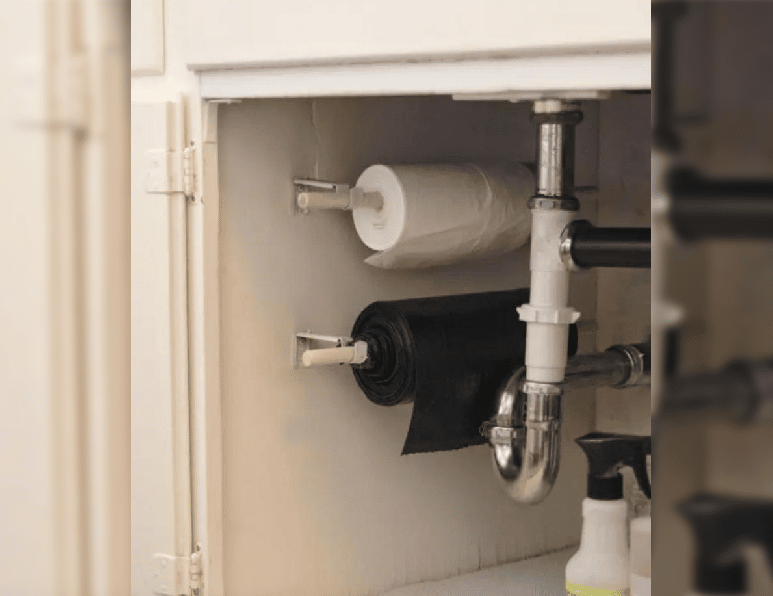 That way, not only will they be out of the way, but they will also be easily accessible when you need to replace the used bags. Just pull on the bit of the bag hanging down and it will roll right off, ready to be pulled from the roll and used.
Onions, potatoes, and magazine organizers
Most people no longer keep stacks of magazines around nowadays since nearly everything can be found online, but what people do still have around the kitchen are potatoes and onions. Often, these can roll around your kitchen counters unless contained, and finding the right container is not always a breeze.
A good way of doing so is repurposing the magazine holders to hold potatoes, onions, garlic, and other similar things. This will not only use up your old magazine holders, but it will also make it easy when you are running low on certain key pantry items and need to stock up. .
Repurposing the lazy susan
When you reach into your fridge, do you have to navigate around ketchup bottles, milk jugs, boxes of leftovers, and more to reach what you need? What if you could just spin a plate and have everything in easy reach? If you use a lazy susan to hold everything in your fridge, you could do just that!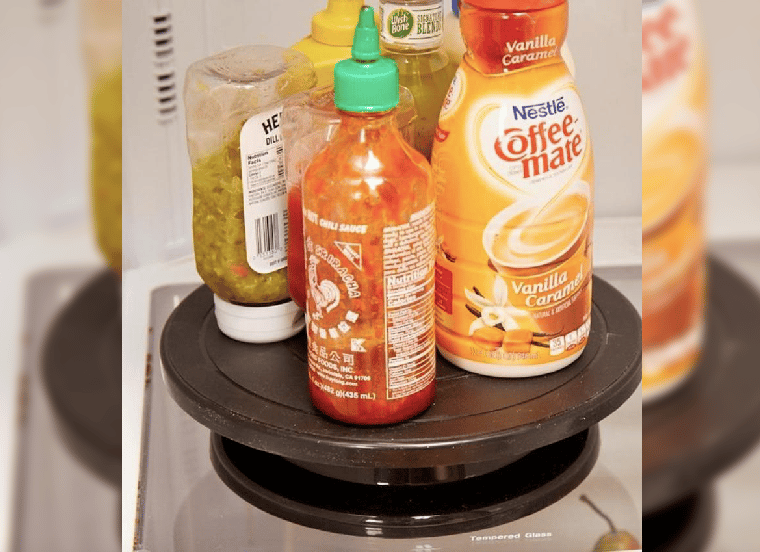 Try this hack for better fridge availability and organization. Just spin your way to the milk, hot sauce, mustard, or whatever it is you are looking for, and then spin right back to be able to store your items neatly. Not only is this space saving, it can also be fun!
Magazine files: modern day beauticians
Hair straighteners, hair brushes, hair dryers, hair curlers…anyone who spends time on their hair knows that often, the accessories needed to tame your luscious locks can take up more than their fair share of space in the bathroom. If you struggle with this, I have an easy solution for you.
To solve this problem, consider stacking all of these appliances together neatly in a corner in an old magazine file. Each one will be in easy reach and your counter will be clear and clean. Getting ready in the morning has never been easier, and cleaning up will be a breeze, too.
Bookended t-shirts
We've already talked about the file folding method – folding things in a vertical line. But, with things like t-shirts, this can be hard as they topple over as you use them. A simple solution for this is to treat your t-shirt drawer like a book shelf. Simply use book ends to keep those t-shirt piles where they need to be!
Now, your drawers will be decked out in lines of color and patterns, easy to see and use, as each item is right there for you to grab. You will also know when it is time to wash your clothes as you can see easily when your drawer is getting empty.
A new twist on the old bookshelf
Do you have all kinds of books and no book shelves? Or, maybe you don't have space for a bookshelf in your room? An easy way to solve this is to repurpose rain gutters. These are actually the perfect size to hold books and can be easily attached to the walls.
Even better, you can use them as a way to display those beautiful book covers which are hidden in traditional book shelving methods. This is especially true of kids books, since the cover illustrations are what draw children to pick the books to read. Organizing a series this way could be decorational, too.
The magnetized spice rack
Spices are essential for every good meal, but the problem with spice jars is that they can create a lot of countertop clutter on your kitchen countertops. A simple way to get around this while still keeping those indispensable spices at hand is to make magnetic spice racks.
The cool thing about a magnetic rack is that, rather than keeping it on the counter or other surface area, it can be hung from the wall. Further, you can either buy one or make one DIY style with a little creativity, and go a long way to upgrading your kitchen organization!
Kitchen or bathroom? Utensil storage can work in both!
Toothbrushes and combs, forks and knives: these utensils are all just about the same length, and just like silverware, toothbrushes, toothpaste, and similar bathroom appliances can end up taking a lot of counter space in your bathroom, especially if you have more than one person lives in the same house.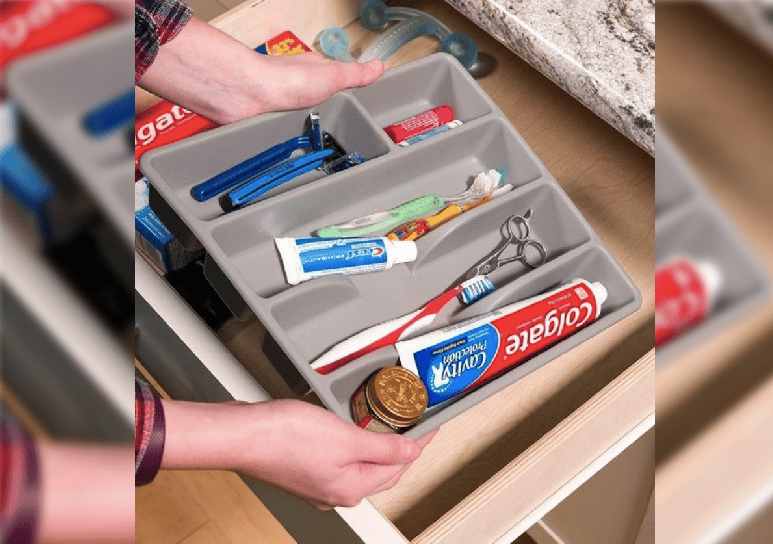 An easy way to solve this is to use a kitchen utensil organizer to sort bathroom utensils, too! Put all your miscellaneous items, from toothbrushes and toothpaste to combs, chapsticks, scissors, creams, and more in the easy to use sections. This method is also easy to clean up and put away after use.
Kitchen appliances need cord organizers too
Look under your kitchen cabinet, or wherever it is you keep your kitchen appliances. So many kitchen tools these days are electric and come with a long, trailing, plug, from blenders, to coffee bean grinders, to kettles. Do you, like me, have a snarl of wires forming out of the back of each of your favorite kitchen gadgets?
An easy way to solve this particular hindrance is to use a cord-keeper to keep those cables organized. These easily stick onto the backs of appliances and keep cords and cables neatly folded away. Not only will this make cooking easier for you, but it will also make your drawers look better kept, cleaner, and neater than ever.
Dinner time storage prep
Almost all of us has heard of the weekly lunch prep plan. What about a simple dinner storage prep to make those weeknight dinners a breeze? Try gathering the ingredients you know you are going to need for each meal you plan to make and stashing them together in bins in your fridge.
Next time you want to cook a mac and cheese or a pot roast, just pull out your drawer and everything will be right there, ready to go. To make things even easier, you could consider pre-chopping the ingredients to save yourself time later. No more time wasted on ingredient gathering!
Hanging bags to clear out your freezer
Binder clips are good for a great many things other than their initial intended purpose as paper organizers. Does your freezer get cluttered with frozen leftovers, meat, and vegetables? One way to get over this is to use those binder clips to organize all of those half bags of frozen corn, peas, and other things stuffed into the freezer.
Next time you use half of a bag of frozen goods, simply attach a binder clip to the top of the bag and hang that from the wire rack in your freezer. It will be much easier to find what you are looking for in the freezer the next time you want to cook up something tasty.
Line up your cans in a magazine rack
The magazine rack strikes again – here is another perfect use for the outdated magazine rack: the can holder. Does your pantry look cluttered with miscellaneous cans lined up in rows? Is it hard to see what each can contains because the labels are hidden with other cans?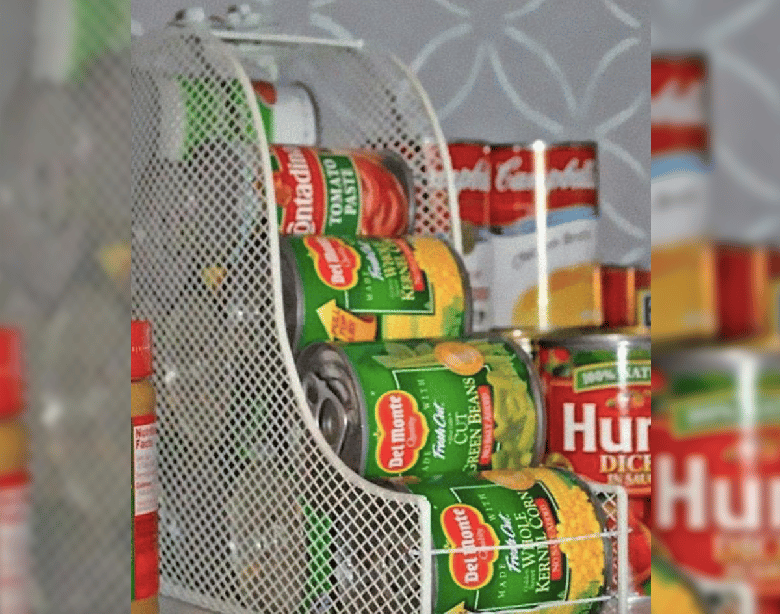 Here is a simple way to solve both of those problems: make the storage of all your cans a bit neater by stacking them in magazine racks. Stacking them label-side out will ensure that you can easily see which cans are in each rack, and you will be able to see what you are running low on, too.
Magnets for small bathroom items
I am not sure about you, but I find myself constantly scrounging through my bathroom drawer searching for the nail clipper, an extra bobby pin, or a missing earring. If you also have a tendency to lose these little things in the maul of the drawer, try this simple hack.
Use magnets to attach these little metal tools to surfaces, such as mirrors, for easy access. You can stick them on with superglue or another adhesive material and then just magnetize everything you need right at eye level. You will never have to rifle through your drawer again to find those little things.
Heel, toe, heel, toe or heel to heel?
Not every hack is about DIY crafts or buying containers. Some of the simplest storage tricks are instead all about using the space to the best of your ability and making slight organizational changes to your space. For example, do you have a lot of high-heels?
Do you struggle to find the right way to store these awkwardly shaped shows? These can often take up a lot of space, especially with bulky toes and different sizes. To cut down on that space, try organizing them heel to heel. This will save lots of space in the end!
The tea station
First in the morning, I stagger downstairs and head straight for the kettle to boil the morning's first cup of tea. I just cannot function without it. There is nothing more frustrating at that point than realizing I have run out of my favorite tea or can't find the sugar.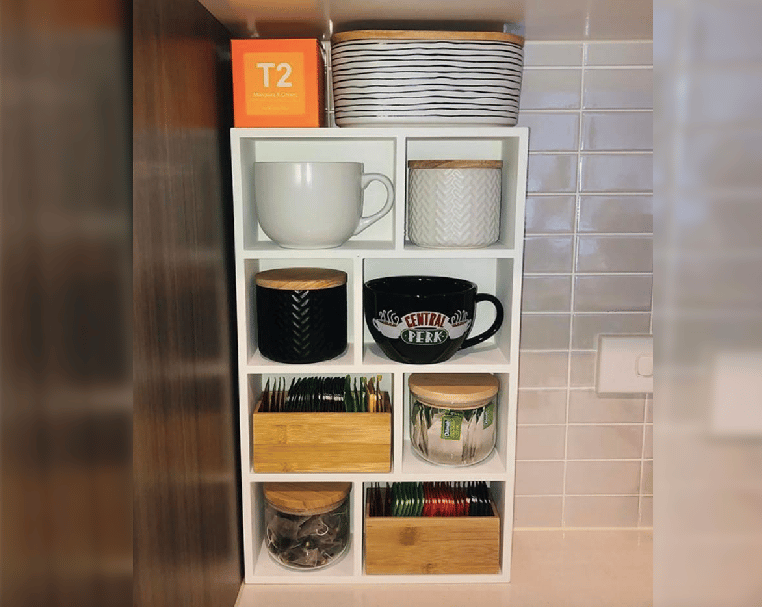 A simple way to fix this is to create a tea station. This can be a little organizer with a couple of shelves for your favorite mugs and tea bags, along with any sugar or anything else you like, will make mornings much easier. Not only that, but it can add a cozy look to your kitchen counter.
Egg box condiments
We revised the egg box as something reused to make an ornament holder. Now, let's look at another great use for old egg boxes: take them into the kitchen to hold and organize your condiments. These bottles can often get stuck in the fridge doors or take up space in awkward places
Storing them in egg boxes will solve these problems in no time. Not only will the egg boxes keep the condiments in place, but you can also store them upside down so you never have to shake, shake, shake to get the last remains out of a nearly empty bottle.
The coffee station drawer
Are you someone who needs two or three (or even more) cups of coffee first thing in the morning to function? Do you like all kinds of different types of coffee to match every season? If you are a coffee person, never fear – you can make an in-drawer coffee station to rival the tea station.
Often, your coffee accouterments can end up cluttering up the countertops and kitchen spaces, what with the filters, pods, creamers, different types of blends, single serve packets, and more. To solve this problem consider moving all of this into the coffee station drawer. Just pull the drawer open in the morning and treat yourself to a cuppa.
The hanging rail clearing station
One thing which can always clutter up a cabinet fast is cleaning products. Spray bottles, especially, are awkwardly shaped and bulky, and can end up filling the bottom of a cabinet in no time. This can end up being very annoying, and most certainly so at times when you need to grab that spray bottle fast!
An easy fix is to install a dowel in the top of the cabinet and hang all of your spray bottles from there. Not only will this eliminate clutter, but it will also be easier to grab the one you need. Cleanup and storage are simplified, too.
Hooks, hanging baskets, and containers on cabinet sides
If you live in a small space, you are probably always looking for ways to capitalize on storage and space saving tips. A perfect place to store those extra bits and bobs is on the side of cabinets. Simply use a hammer or even adhesive to stick little nets, baskets, or hooks to store miscellaneous items.
As a bonus, these can appear decorational and add to your house's decor. Try spray painting the little baskets different colors, filling them with colorful flowers alongside your stored items, or even storing small plants inside them. You can brighten up the room and eliminate clutter all at once.
Use trash bags to help you move
One of the most stressful things in life is the idea of moving from one house or apartment to another. You have to pack up and organize all of your belongings and then unpack and reorganize them all again. Moving from place to place is hard enough without adding the stress of disorganization, and therefore following a few tips and tricks for organization will help make your move stress free.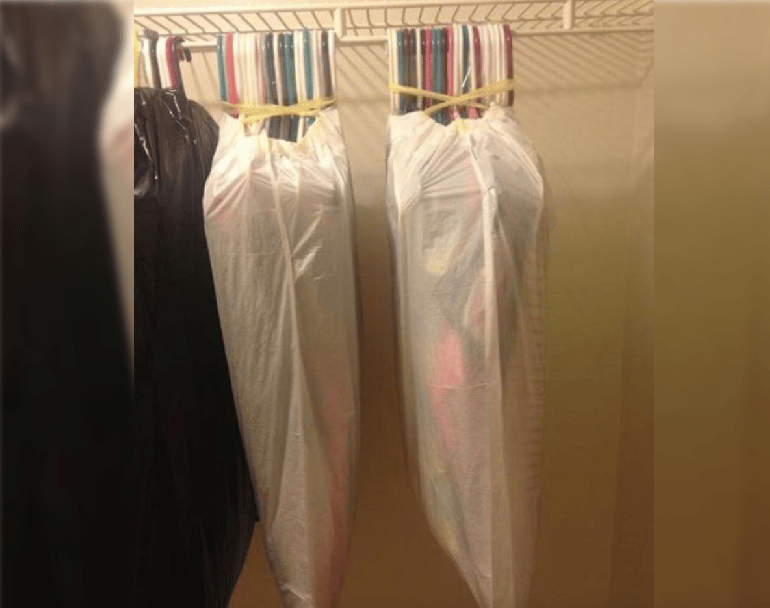 One of the best of these tips can be used to sort and move your clothing. Managing all of your hanging clothes and the hangers they come with can be cumbersome. Try wrapping them in a plastic bag to keep them all together and make moving a breeze!
The to-be-read pile
Are you an avid reader? Do you come back from each trip to the bookstore or library with a towering pile of books to add to your already towering stack sitting at home? If so, it sounds like you need some help organizing your book shelves.
Consider making a change from the usual color coded or alphabetical organizing methods. An easy way to sort through your books is to create one shelf to hold those which you have read and one shelf for those which you have yet to read. That way, when you want to grab your next read, you will know just where to look.
The bobby pin strip
If there's one thing those with untameable hair know, it's that bobby pins are a hero in disguise. Unfortunately, those little pins also have a knack for getting lost and disappearing. One day, you'll have a brand new stack, and by the next week your pile will be dwindling down to just a few.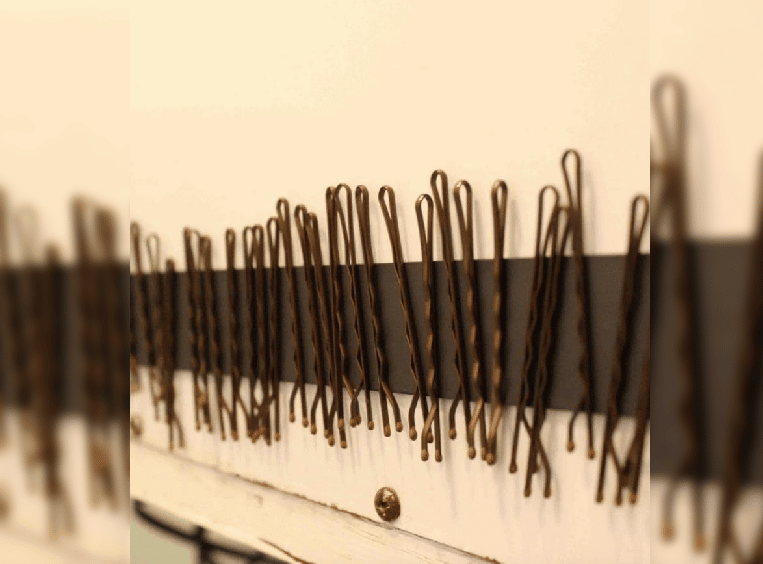 One great way to ensure that your bobby pins are well looked after and remain with you is to stick a magnetic strip to the wall. Simply attach all of your bobby pins to the strip and you are sorted. You won't have to make a quick run to the store for new bobby pins again!
The old velcro trick
I often hang my kitchen towel over the oven handle, but the annoying thing about that is that it falls off all of the time. One method I have found to avoid this is to sew little squares of velcro to either side. This is an easy sewing project which even the amateur craftsperson can do.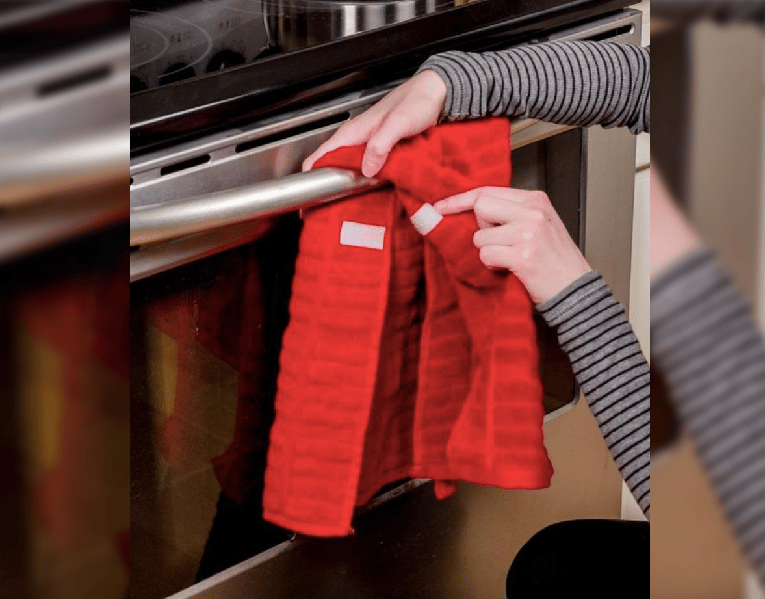 Then, when you hang the towel, simply stick the velcro pieces together. Now, the towel is secured and cannot fall off! Try hanging all of your towels together using this method, and you will see that grabbing that towel for cleaning up a mess or grabbing a hot pot has never been easier.
Shower rings for awkward items
Ties, scarves, and other awkward items can be hard to store. Do you fold them up in your sock drawer? Hang them alongside your suits? Build a separate area in the closet especially for them? None of these sounds to me like an easy solution, so how can these best be stored?
Well, one easy way to store these is to take some shower rings off an old shower curtain and hang the items from there. That will not only keep them in order, but will also help to keep your closet well organized. Further, having all your colorful scarves hanging together will make your closet look beautiful
Hot glue and non-slip
Are you tired of that wide necked blouse slipping off your hanger? Do you end up with more clothes piled on your closet floor than hung neatly from the hangers? There is an easy way to keep clothes on the hanger and prevent them from slipping off the hanger and crumpling to the floor.
Simply find a hot glue gun, heat it up, and get ready to craft. Use the glue to create straight lines down each of the sides of the hanger. This will stop the plastic from being so slippery, and keep your clothes right where they need to be!
The spoon clip
Do you need that fresh cup of coffee in the morning, but worry about losing the spoon? I, like many people, keep a spoon inside my coffee bag to measure out just the right amount of coffee for my morning brew. No one likes a weak cup of coffee, and one that is too strong can ruin a morning, too!
The problem with the measuring spoor, though, is that it can often be forgotten and left out of the bag. Further, coffee bags are easily spillable when tipped over. To solve both of these problems, try getting a tool that can serve as both a clip and a spoon. That way, you will never again need to worry about coffee spilling or misplacing your measuring spoon.
The beautified stationary holder
Do you have loose pens, pencils, erasers, scissors, etc, and an abundance of empty cans? If so, consider decorating those cans with fabric tape and other colorful ribbons to make colorful, tasteful stationary holders. This is a fun craft to do at home, and once you are done you can line the cans up along your desk and fill them with all the loose stationary.
With these decorating your desk, you will never have to worry about misplacing another pen. Further, the clutter of pens, pencils, scissors, gluesticks, and more will be neatly contained in the can, and your desk will be decorated with colorful cups. It's a win-win situation!
The case of the unfolding wrapping paper
Do you have piles of wrapping paper just waiting for the next holiday or birthday? Are those piles rapidly degenerating into unmanageable stacks of loose and curling paper? Chances are that the edges of the paper rolls will gradually come unfolded, too. All of this can be annoying and, at worst, can leave your wrapping paper damaged.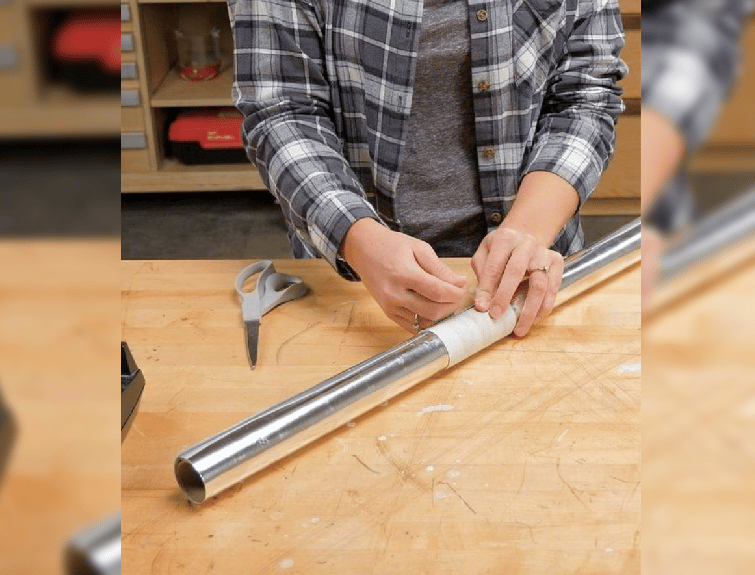 Wrapping storage has never been easy, until now. To stop the clutter and paper damage from happening, try this simple trick: use an empty toilet paper holder to keep it in order. Just cut the roll in half and secure it over the wrapping paper for a permanent fix.
The can stack
Often, cans can fill up a pantry faster than anything else. Do you have rows and rows of cans, most of which have their labels obscured by other cans getting in the way? If so, here is a simple solution: line up your cans sideways in stacks.
This way, not only will they take up less space, but the labels will be easily visible as well. Your pantry will be well stocked and organized at all times thanks to this simple hack, and unpacking the groceries has never been easier.
Pool noodle boots
Long boots are great for all cooler weather, but they have one downfall: when stored, they can flop over. Who wants their beautiful, tall boots to sag and wrinkle? If you don't have any boot stands, consider this: try cutting up some cheap pool noodles and sticking them into the boots to keep the shape.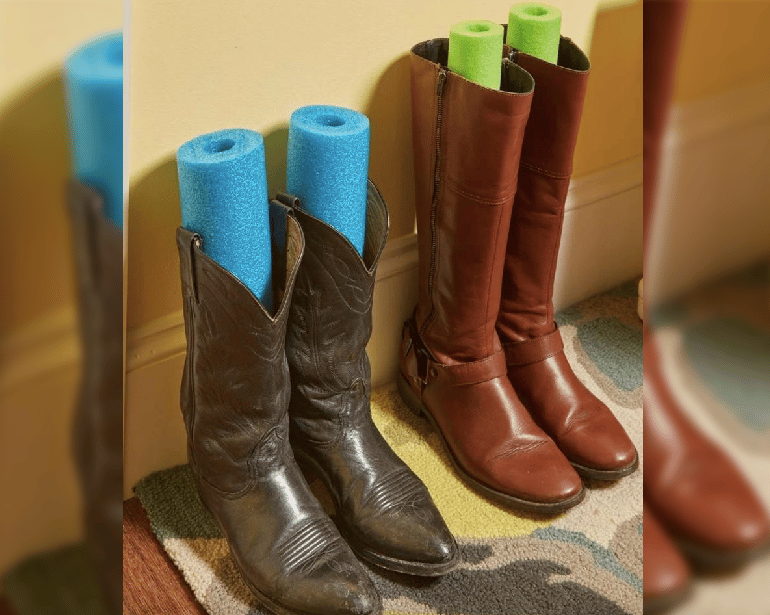 This is a cheap and easy alternative to make sure your boots stay fashionable all year long. Further, the sturdy pool noodles will ensure that your boots stay in top shape. You won't have to worry about them while they are in storage over the summer, and they will be ready for you to pull out anytime for winter and fall.