Olympians are at the peak of physical fitness but it doesn't come without hard work and sacrifices. From gigantic thighs to ice baths, this list shows why not everyone is an Olympic athlete. These freakishly Olympic athletes will make you see the human body in an entirely different light. The world at the pinnacle of the sport is far more bizarre than anyone would imagine.
In order to make the reading experience of this article more convenient, the article has been split up into multiple pages. At the end of each page, you will see a "next" button which will take you to the next page. Enjoy your reading!
50 Shades of Leg
This is the leg of ex-world champion cyclist Janez Brajkovic after a race. The official doctor of the Croatian Cycling team said, "I have seen cyclists shortly after three weeks of cycling races in France, Italy, and Spain, who looked like him."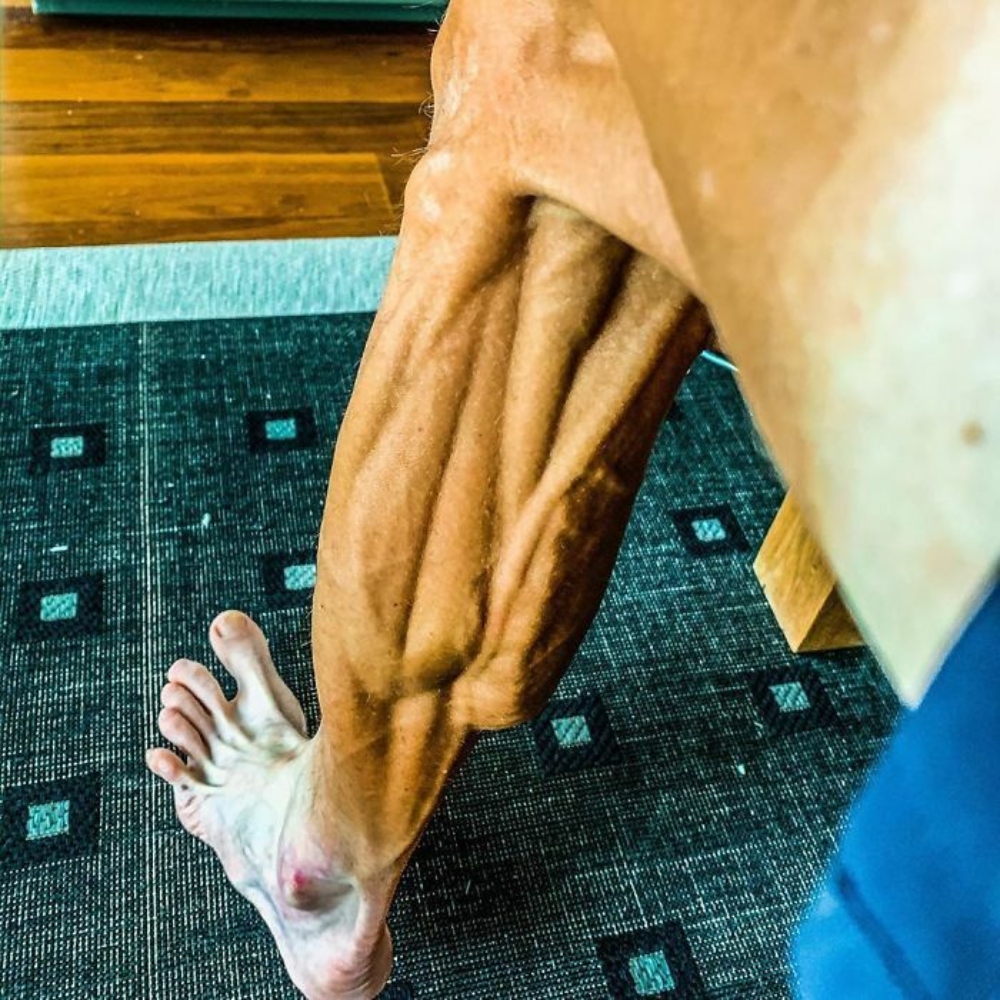 Janez's legs are purely made of muscle so it makes sense as to why his calf looks like this after an intense race. Let's just hope the swelling has gone down since this photo was taken.
A Master at Work
This is Olympian Yang Wang. In any other scenario, if someone saw another person bending into this shape, they'd assume that a very bad accident had occurred. Not in this photo, though. This is a master performing their craft.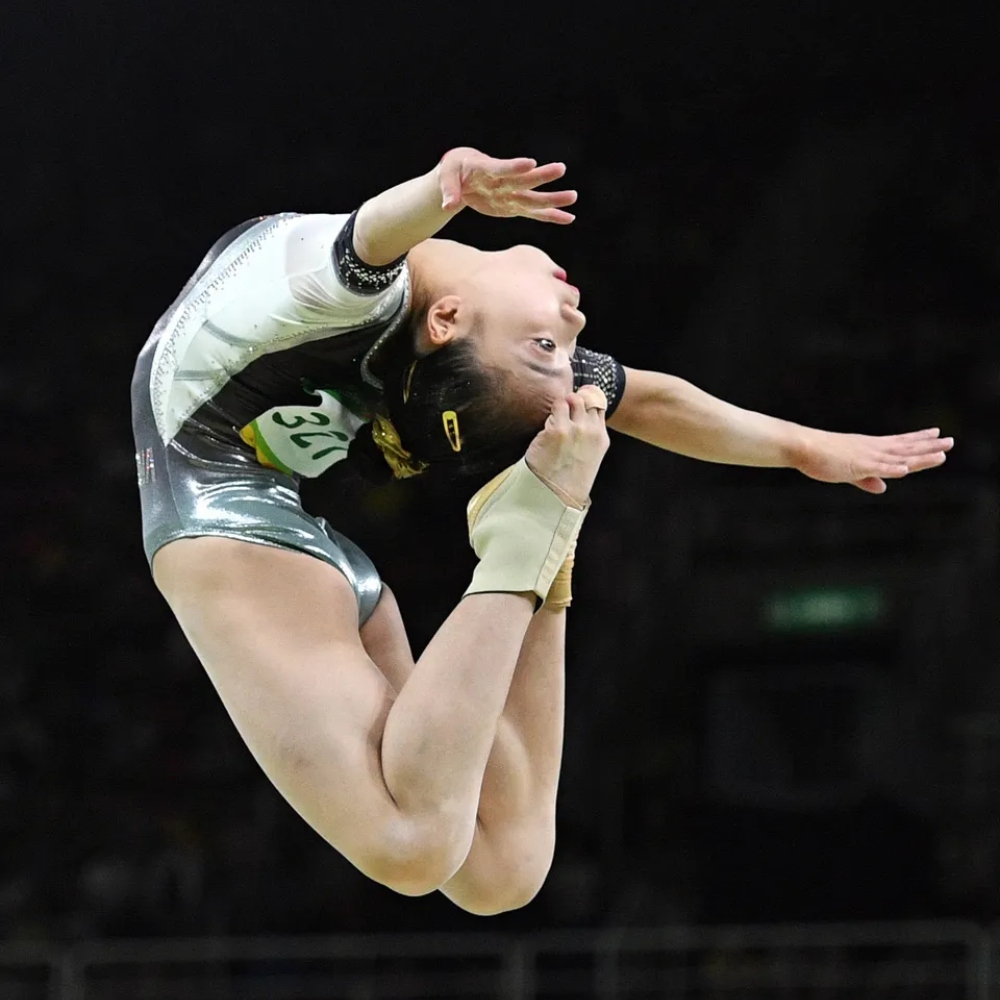 How can she be expected to land this? Flying through the air has never looked so elegant. Most people would like a fish out of water but Yang looks like an angel.
This Week in History (8/23- 8/29)
Cupping Therapy
Everyone will recognize the man in this photo. Michael Phelps is the most successful and most decorated Olympian of all time with a total of 28 medals and this therapy certainly helped him along the way. Cupping therapy is a form of alternative medicine.
Cupping therapy helps with pain and inflammation. It's also used as a type of deep-tissue massage. Apparently, this does help athletes but is it worth it? Because they do look freaky.
The Risks of Cycling
No — this is not a picture from a new Alien movie. This is George Hincapie's leg after the Tour De France Race. It looks as though his brain traveled through his body and down to his leg. Hincapie is suffering from an unsightly case of varicose veins.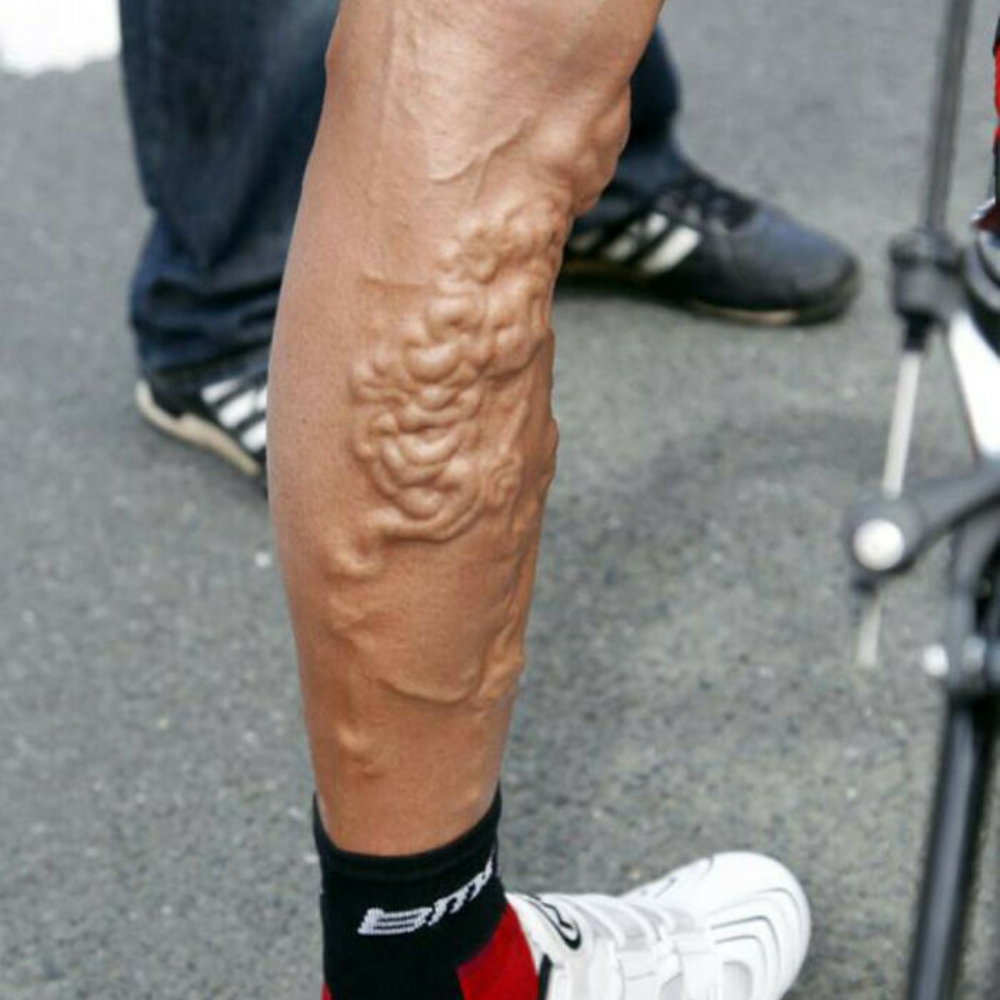 It's likely caused by the hours upon hours sitting on his bike. Varicose veins indicate that veins are blocked and are failing to function. Thankfully, George was completely fine.
Spider People
It's over, guys. The spider people have officially taken over. We're only kidding! What you're looking at here is a performance during the artistic swimming competitions at the Olympics. Artistic swimming is a women's Olympic discipline that combines technical perfection, synchronization, choreography, artistry, and expressive power.
Synchronized swimming must be one of the most grueling sports at the Olympics. We're just exhausted even thinking about how much training goes into it all.
Feet Recovery
If someone said this photo was from the year 2050, the majority of people would believe it. This contraption is either the answer to humanity's problems or humanity's biggest threat. It could easily be a freaky device that was designed to torture James Bond.
The feet in this photo belong to an Olympic sprinter with a tear in her foot. To most people, it just looks like she's trying to warm up her feet.
The Risks of Cycling
No, this is not a picture of a boxer after a fight. This is Dutch cyclist Annemiek van Vleuten after a standard training session. If this is the sort of damage that can be done in a training session, then cycling is way tougher than we thought.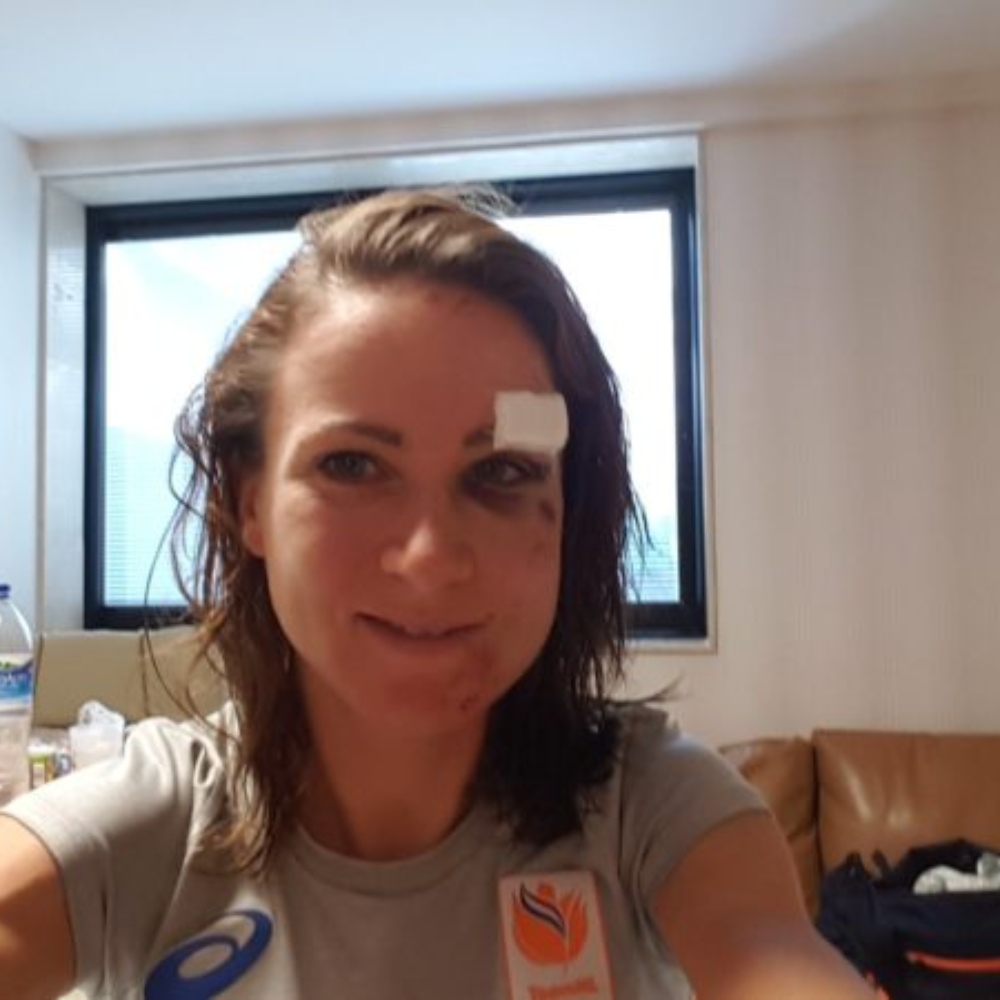 Her black eye looks like it was given to her by Mike Tyson. It must have been a pretty freaky fall to do that amount of harm.
Ice Bath
Apparently a lot of Olympic athletes, regardless of the sport, use ice baths as a way to cool down. Freaky people. Athletes usually sit in an ice bath for as few as five minutes to over an hour. Why? After a gruesome, intense training session, why choose to torture yourself even more?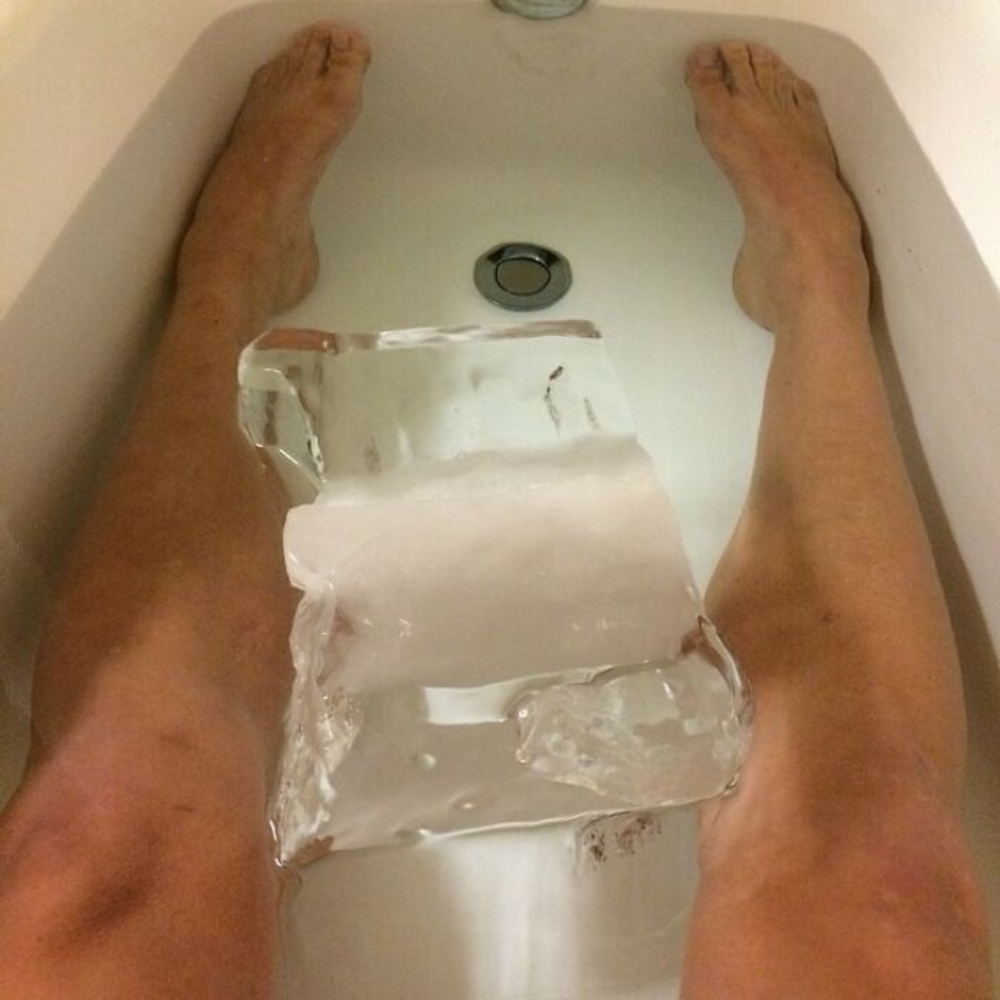 The benefits and rewards must be amazing but the freezing ice-cold water must be agony. Surely as soon as the time is up, they jump straight into a boiling bath.
Leg Compression
Help her! Somebody help her! Oh wait, it's ok. She's not being swallowed whole by a large black snake; she's just undergoing leg compression. The idea behind compression is pretty simple — it helps increase blood flow to certain areas in your body. It also looks pretty strange.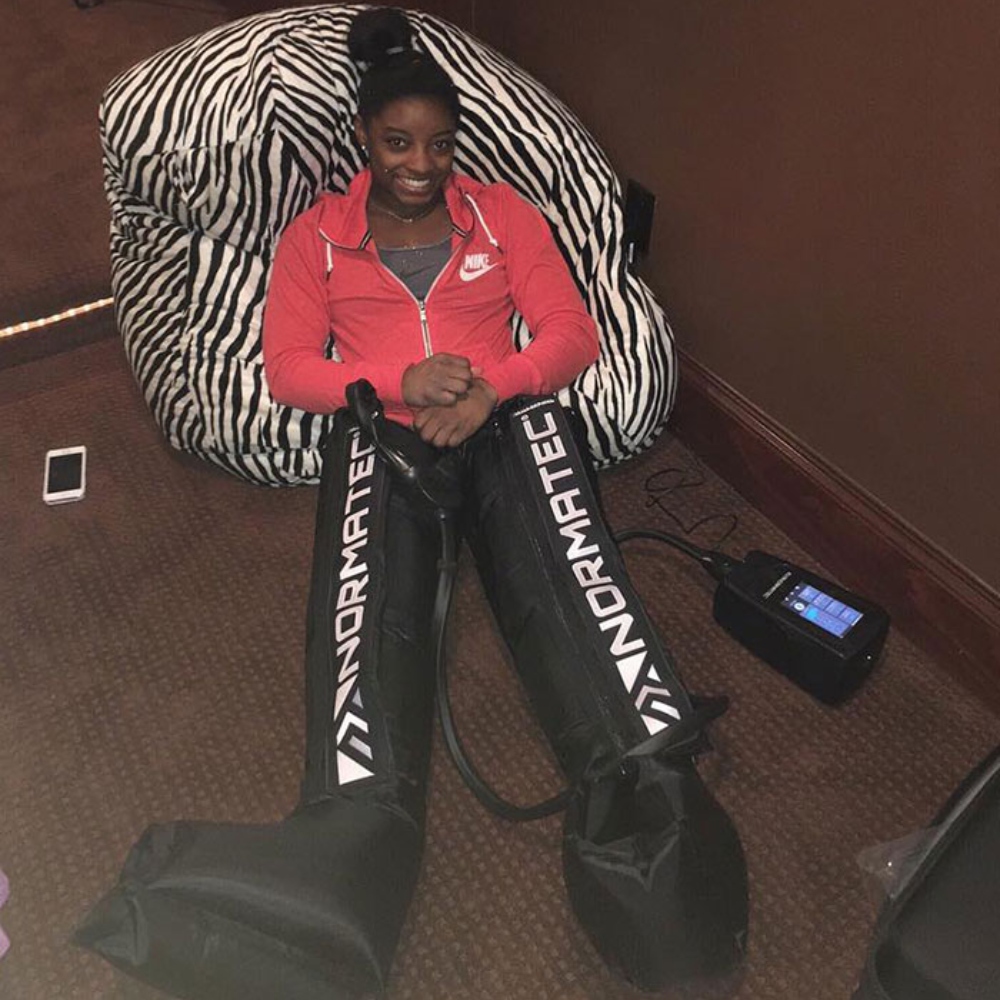 The big question is, does it hurt? It certainly looks like it hurts. And the word compression is very reminiscent of the trash compactor in Star Wars. Hopefully, this doesn't crush people's legs.
Perfect 10
At the age of 14, we kids were playing Xbox all day and going to school. On the other hand, at the age of 14, Nadia Comăneci was the first gymnast to be awarded a perfect score of 10.0 at the Olympic Games.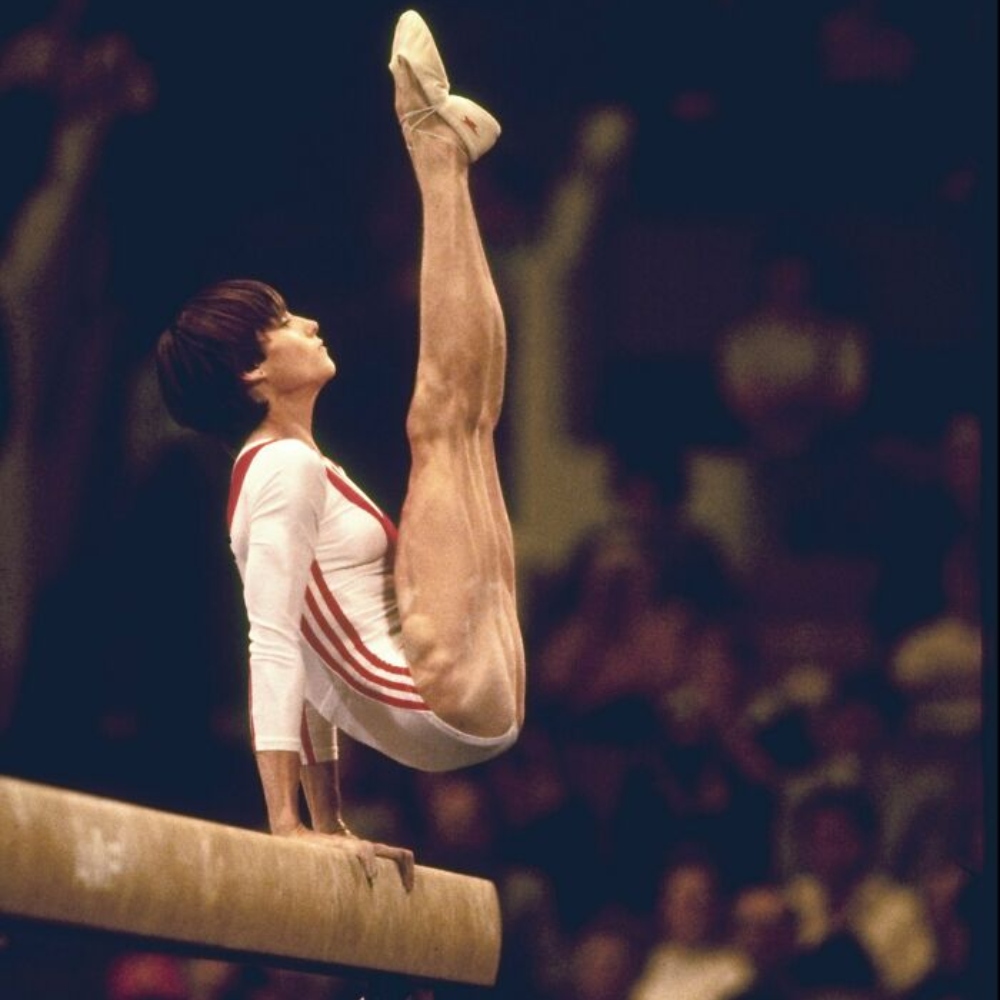 Comăneci won nine Olympic medals and four World Artistic Gymnastics Championship medals. Comăneci is one of the world's best-known gymnasts and is credited with popularizing the sport around the globe. This gal has muscles on her legs that we didn't even know existed.
Big and Small
Simone Biles is tied with Larisa Latynina as the most decorated gymnast of all time. US Volleyball Player David Lee is 6'9″ so, in fairness to Simone, anyone would look tiny standing next to him.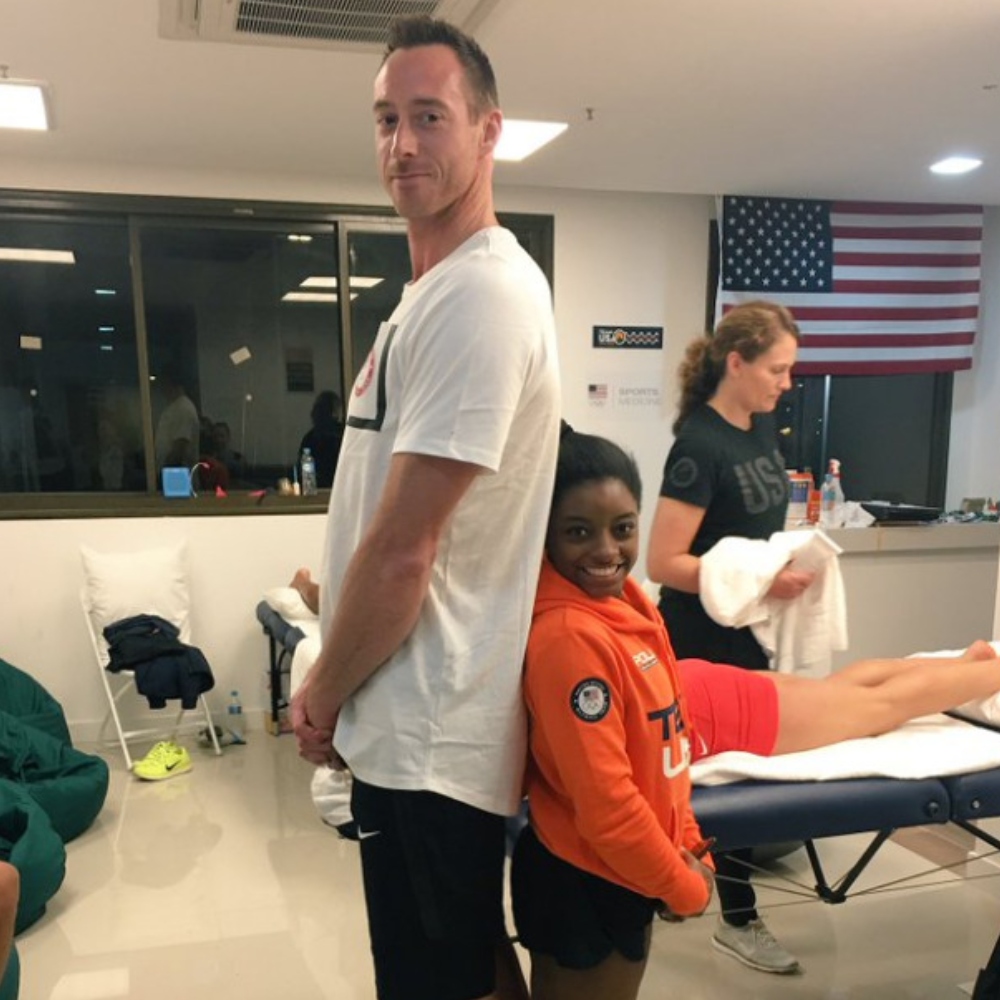 If these two Olympians came together, they could become one massive freaky transformer and takeover every Olympic event and rule the world.
Weightlifter Hands
Look, it would be unbelievable to compete at the Olympics, never mind win a medal, but we just winced looking at Hidilyn Diaz's hands. We've all had blisters in our lives but never this bad. Weightlifting makes you buff. That's a fact. Another fact is that it rips up your hands.
There's no doubt that the entire population of the Philippines is extremely proud. It's pretty impressive to see what the athletes on this list will sacrifice for gold.
Sprinter or Gymnast?
It turns out the fastest man in the history of the world, Usain Bolt, is also capable of being a gymnast. It's honestly hard to believe that any person could have this much talent. Still, it does make sense that the man is flexible.
A man of many talents, Mr. Bolt never ceases to amaze us. Some people can't even touch their toes without bending their knees, yet Usain is here putting all of us to shame with his flexibility and strength.
The Stretching Swimmer
This is getting ridiculous now. This photo is of Olivia Federici, a British synchronized swimmer, before her training session. This kind of flexibility would take us mere mortals years to get to, yet she does it so casually.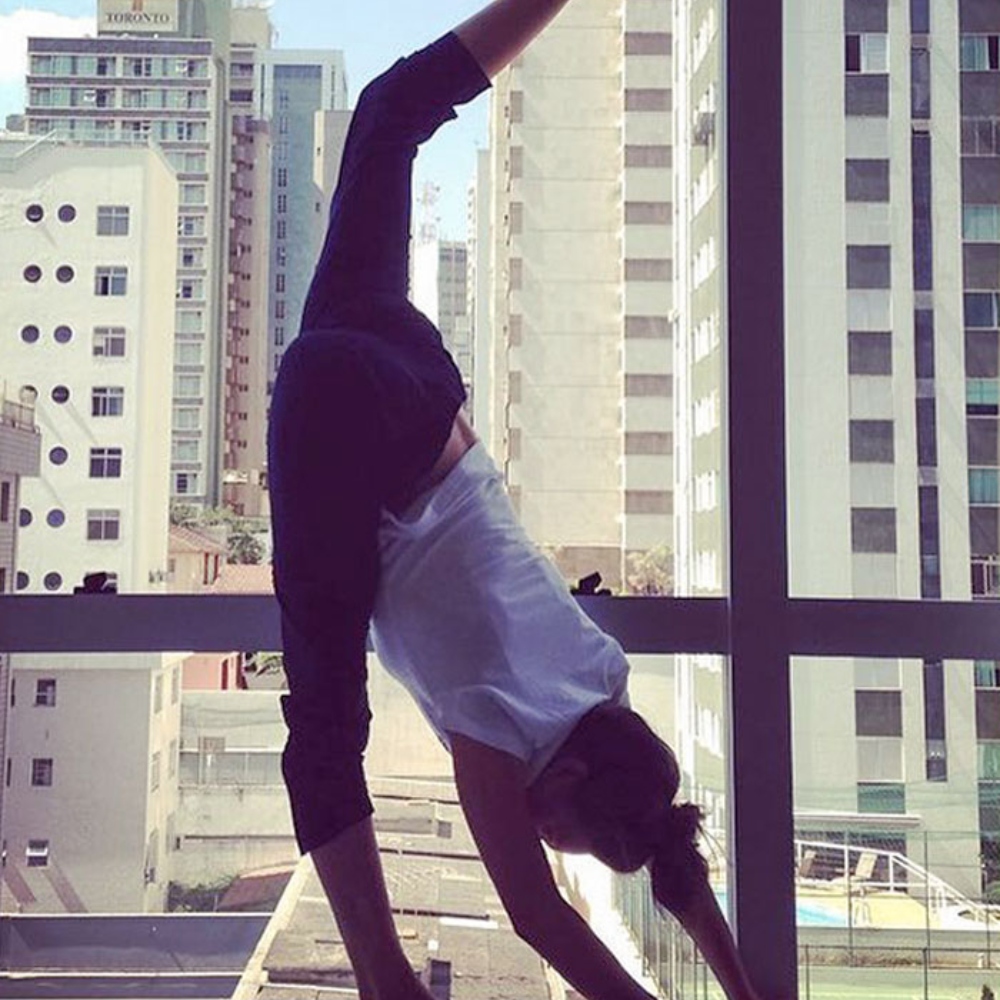 If we didn't know any better, we'd say that Olivia is some sort of superhuman — or an alien sent from a different planet in order to show humans how perfection can be achieved.
Nothing Can Stop Him
Cody Miller, a competitive swimmer, was born with pectus excavatum — a deformity of the thoracic wall that causes the chest to cave. This caused Cody's ribcage to grow abnormally. As a result of the deformity, he began swimming at the age of eight to monitor his heart and breathing.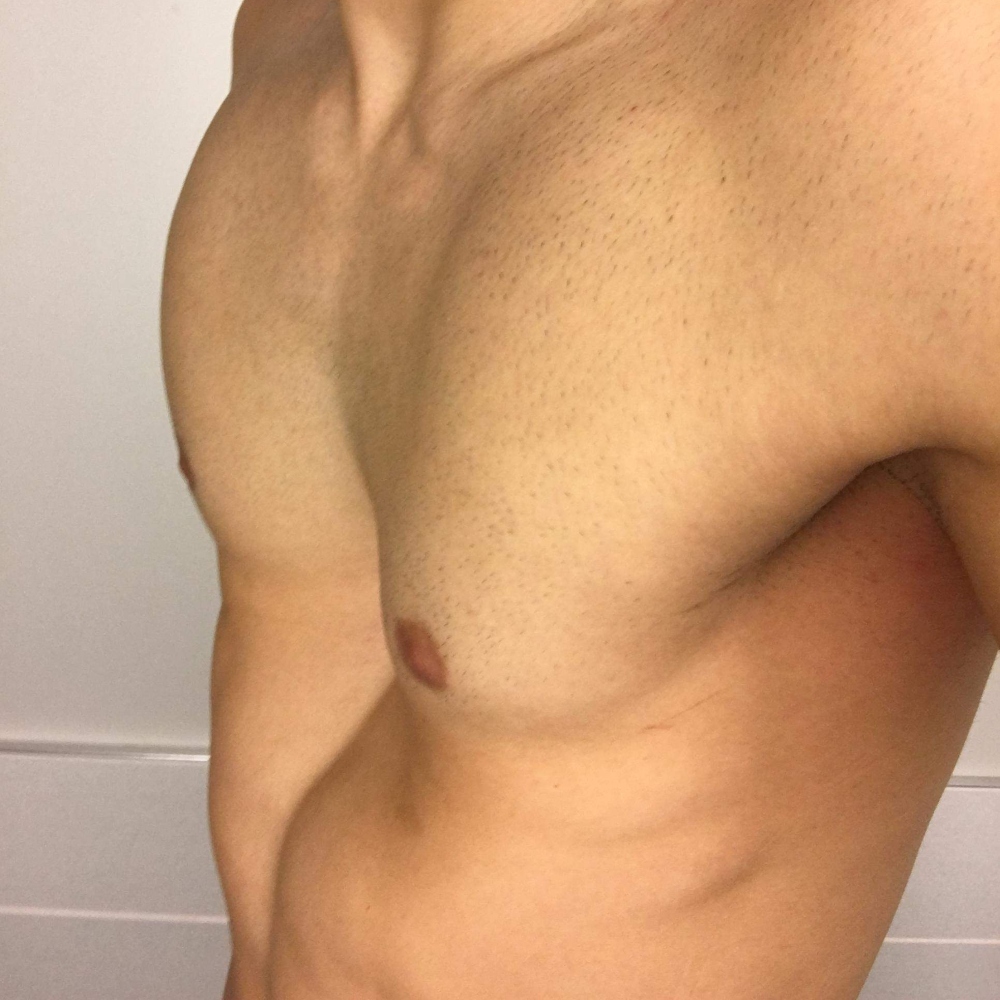 Miller truly is an inspiration. He never let his deformity get in the way of his dream. At the 2016 Summer Olympics, Miller won a bronze medal in the men's 100-meter breaststroke.
Pruned Hands
We've all experienced pruned hands after a shower or swim, but these hands are just next level. They belong to Maarten Van Der Weijden, a Dutch long-distance, and marathon swimmer. The photo was taken after a 101-mile swim.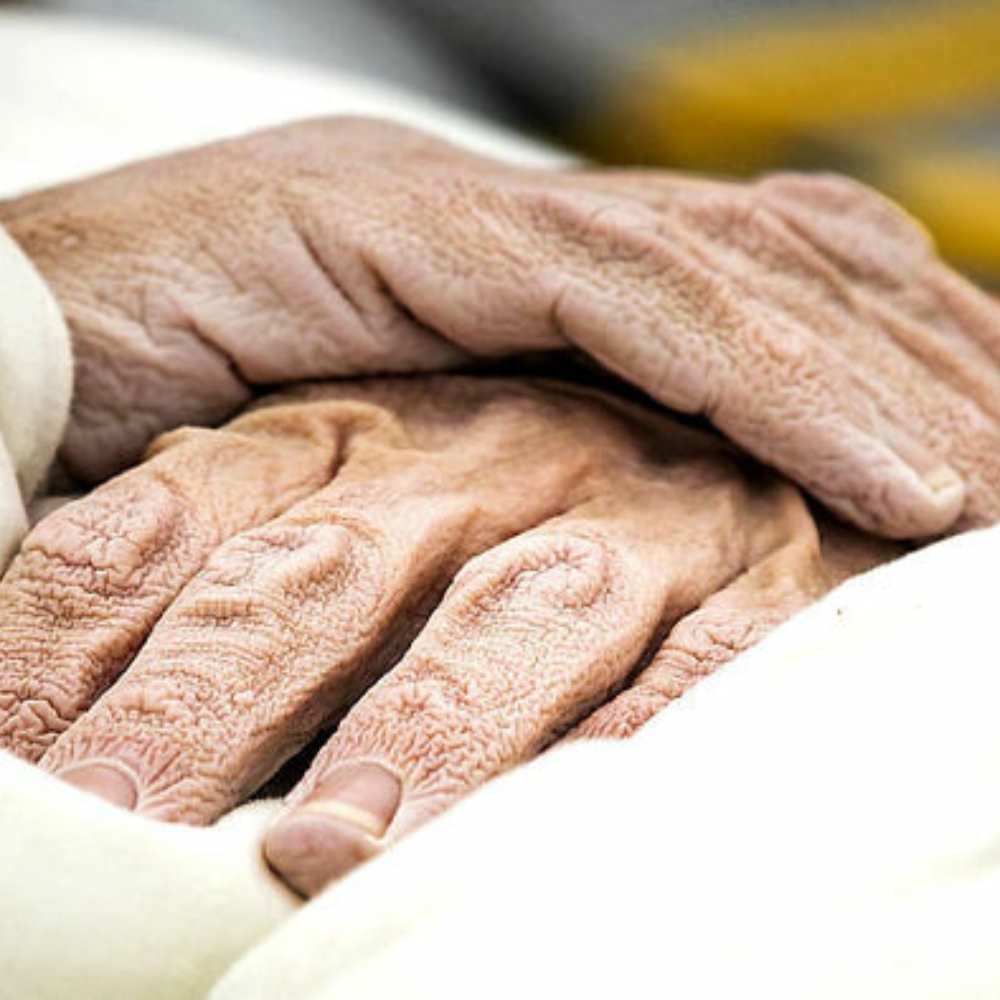 To get a better understanding of just how much that is, it's the equivalent of swimming from Pennsylvania to New York. Pretty impressive, huh? In 2019, Maarten swam the elfstedentocht for charity and raised over seven million dollars. Now 40 years old, Maarten has since retired.
Off the Rails
Who needs a track anyway? Definitely not Dutch track cyclist Laurine Van Riessen. It turns out that we're all living in a simulation and the only person that has the cheat codes is Laurine.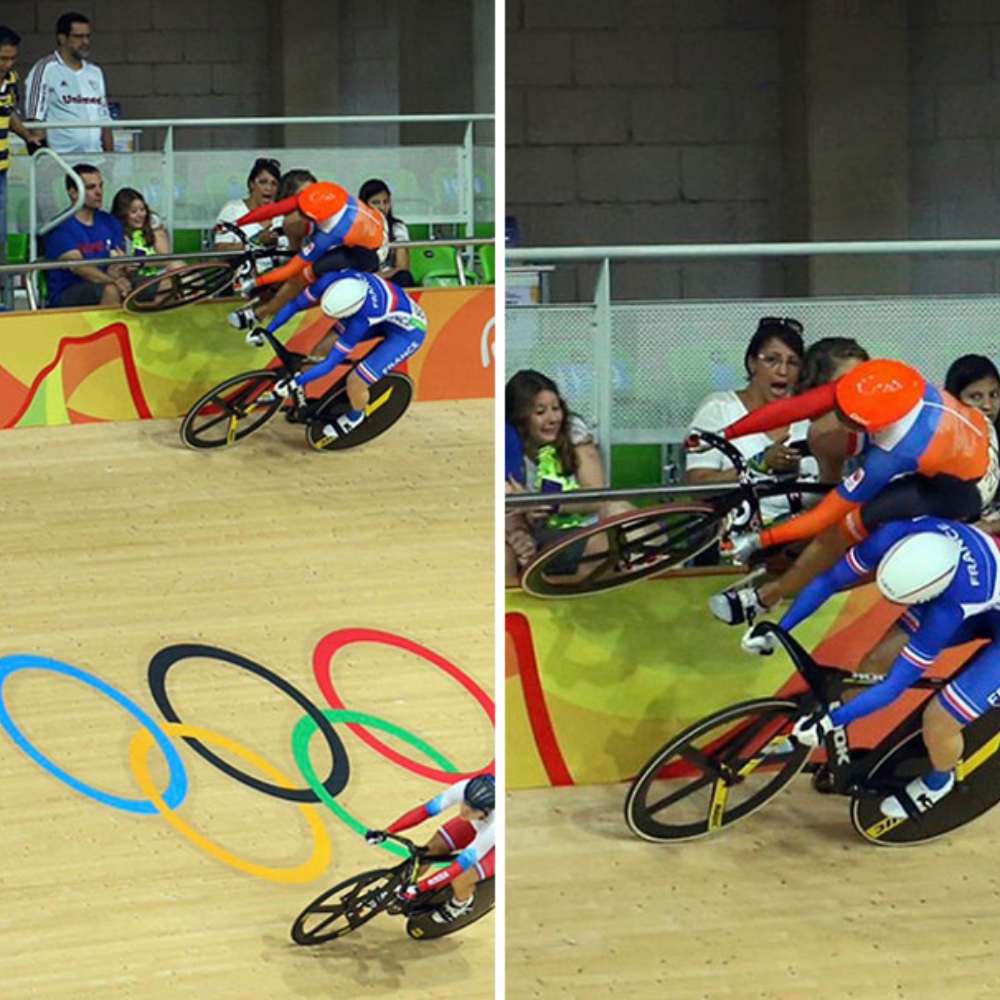 For anyone who wants to learn, you will have to offer her a very large sum of money. We had no idea that the human body could even balance to this extent. She's absolutely incredible.
Relaxing Time
Everyone can relate to this. After a long day of work, you want to sit back and relax. Once you get home, you sit down on the couch to catch up on some Netflix, but not before stretching your leg above your head. Oh, wait — you probably don't do this because you're not Aly Raisman.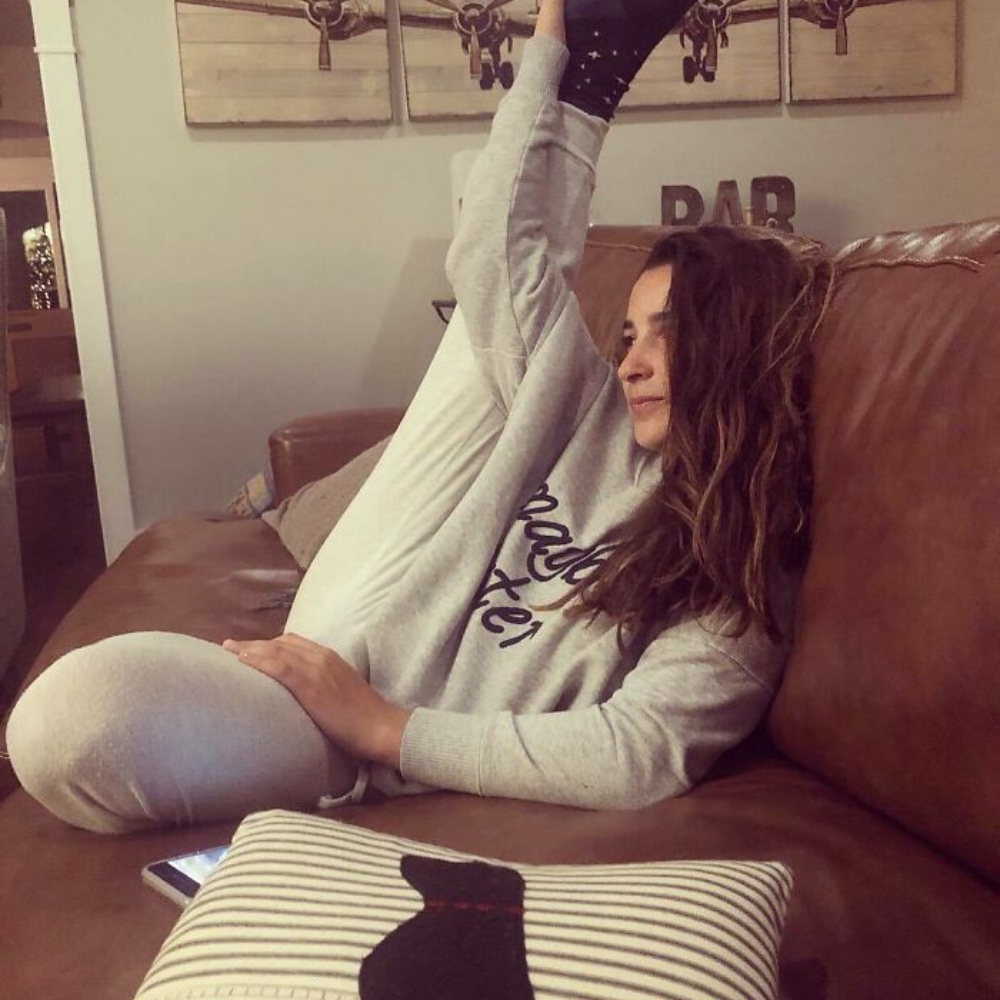 A former American artistic gymnast and two-time Olympian, Aly's flexibility is something to be envied. Despite the fact that she's now retired, she can still contort her body in ways that we could never imagine!
Swag
If you Google the word 'swag,' rather than getting the definition, you'll be presented with this picture of Julia Mancuso. In this very picture, she's competing in the Olympics and about to win a bronze medal.
Between the sunglasses and the backward cap, we think it's safe to say that this gal has some serious swag.
Real-Life Superheroes
If anyone has ever wondered what would happen if a room full of people with superpowers got together, this is your answer right here. The amount of talent on display in this photograph is breathtaking. This freaky photo of Olympians will surely give everyone a new perspective on the human body.
This photo is of the level 10 training camp at Karolyi Ranch in Texas. To reach this level of athleticism, you have to dedicate your life to the sport.
Size Difference
At first glance, this looks like the same photo but it turns out these are two separate gymnasts and two separate basketball players. This just goes to show you that no matter size and stature, anyone can be an Olympic athlete. It does prove that the human body is spectacular and comes in many different shapes and sizes.
The basketball player in the photo on the right is holding a football. Just stick to one sport, show off.
May the Track Be with You
It wasn't enough for this Olympic runner to just run on the track, he had to become one with the track. Yes — it does look a little freaky, but you gotta do what you gotta do, and we should all salute this man for his dedication.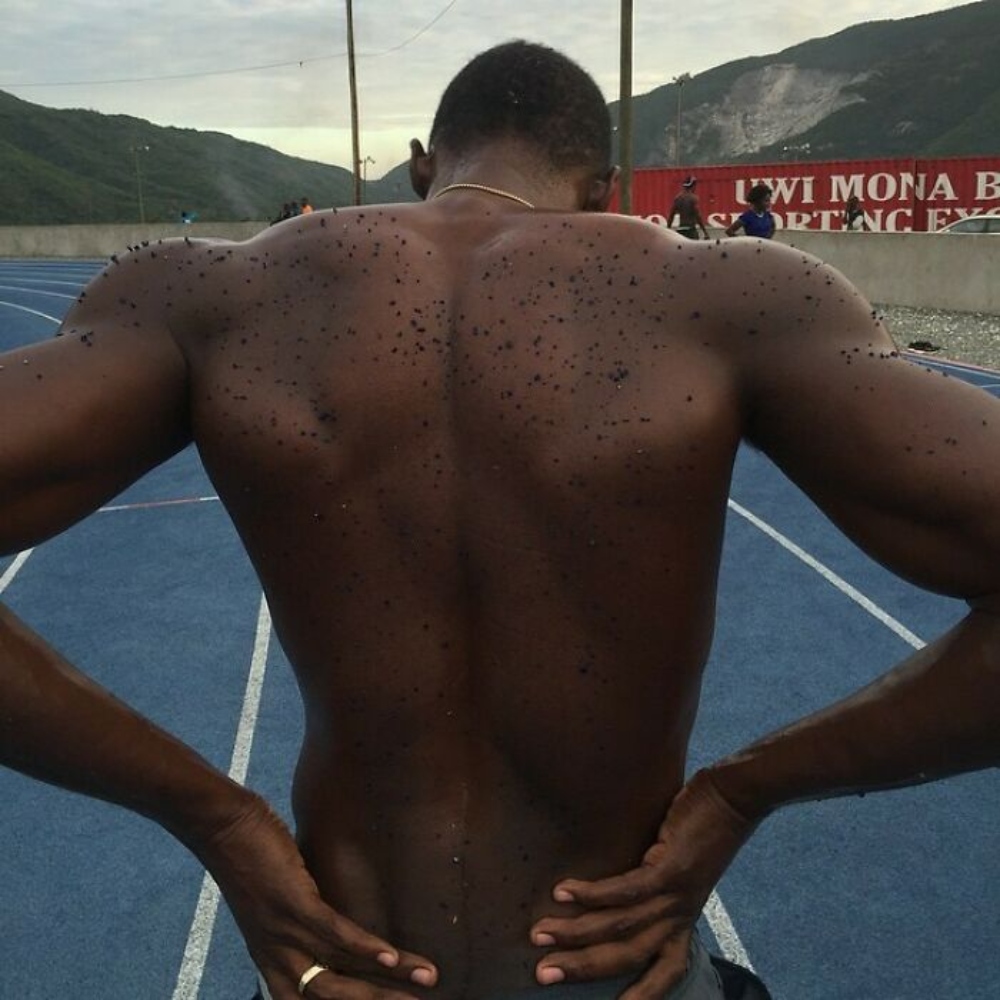 Aside from the fact that he intertwined himself with the track, let's just take a moment to appreciate the number of back muscles that this guy has. This only further proves that he's completely devoted to his sport.
Thor's Leg
If you've ever wondered what Thor's legs look like in shorts, well, then take a look at this photo. Olympic athletes need to be at the peak of physical fitness but they don't need to be Gods.
From the looks of it, though, this guy didn't get the memo. This man has veins on his leg that we didn't even know existed. His leg isn't a leg anymore — it's legally now just a vein.
Floating in the Air
This man is literally flying — which is basically every child's dream. This was the basketball presentation for the Olympics opening ceremony and it did not disappoint. If someone didn't know that this was an Olympian, then they'd probably assume that he's falling in this photo but we can confirm that he made the shot.
Sometimes people struggle to even brush their teeth if there's something in the bathroom with them, meanwhile, this man is flying through the sky in front of thousands. Unbelievable.
Smile for the Camera
We've done it. We have found the coolest photo of all time. The only reason this photo is even remotely freaky is that how can one man be so cool? He's beating the fastest men in the world on the biggest stage in the world, yet he still has time to look over and smile at the camera.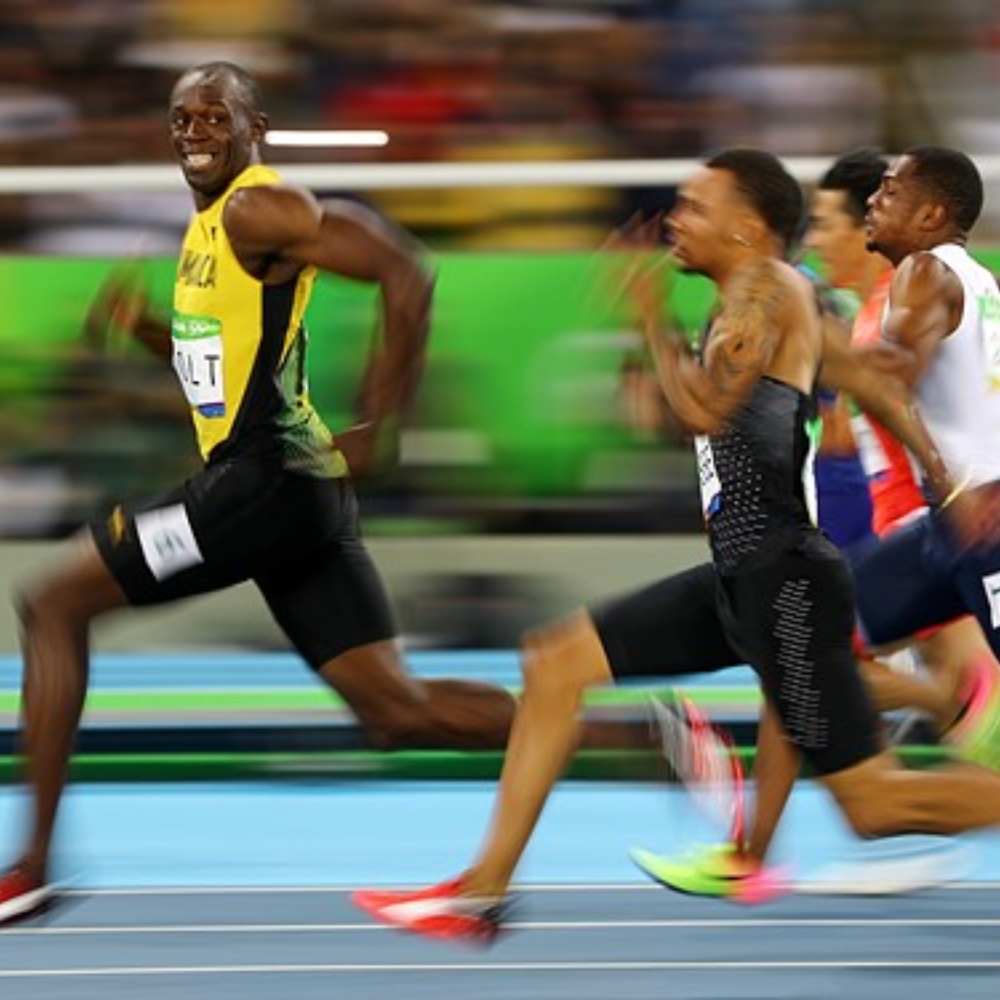 Bolt revealed that, before winning a medal in 2008, he had McDonald's chicken nuggets for dinner. What a man.
Olympian Calf
Naim Süleymanoğlu — does the name sound familiar? Didn't think so. This freaky and monstrous calf belonged to Naim. He was a seven-time World Weightlifting champion and a three-time Olympic gold medalist, setting multiple world records and becoming one of the greatest Olympic weightlifters ever.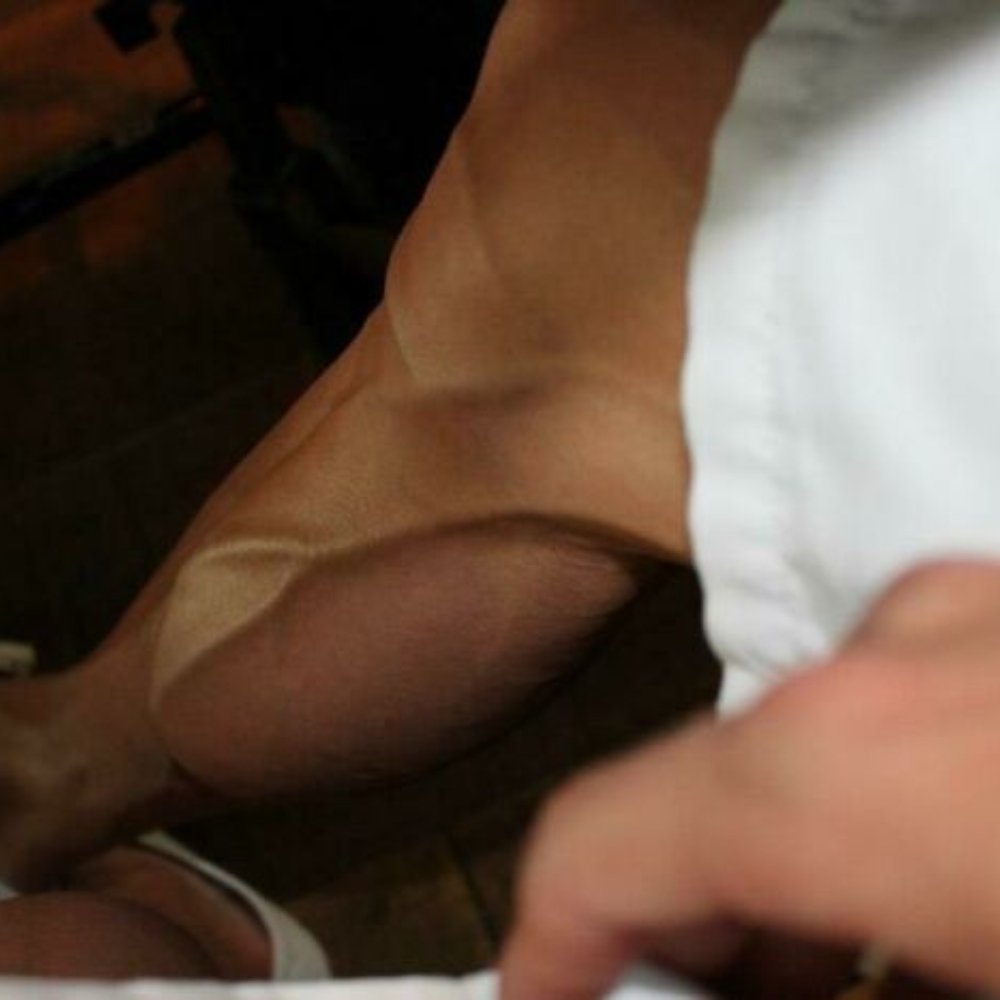 Unfortunately, Naim has since passed but rumor has it that his calves used to intimidate the strongest of people. Naim's father stood at only 5'0″, while his mother was 4'7″. Naim himself was only 4'10". Such power in such a small body.
Faster Than the Speed of Light
These four cyclists are going at such a speed that some of the best camera equipment in the world could not keep up with them. The smallest of mistakes could result in cataclysmic damage to all of the cyclists. After one look at this photo, we can't help but once again be amazed at what the human body can do.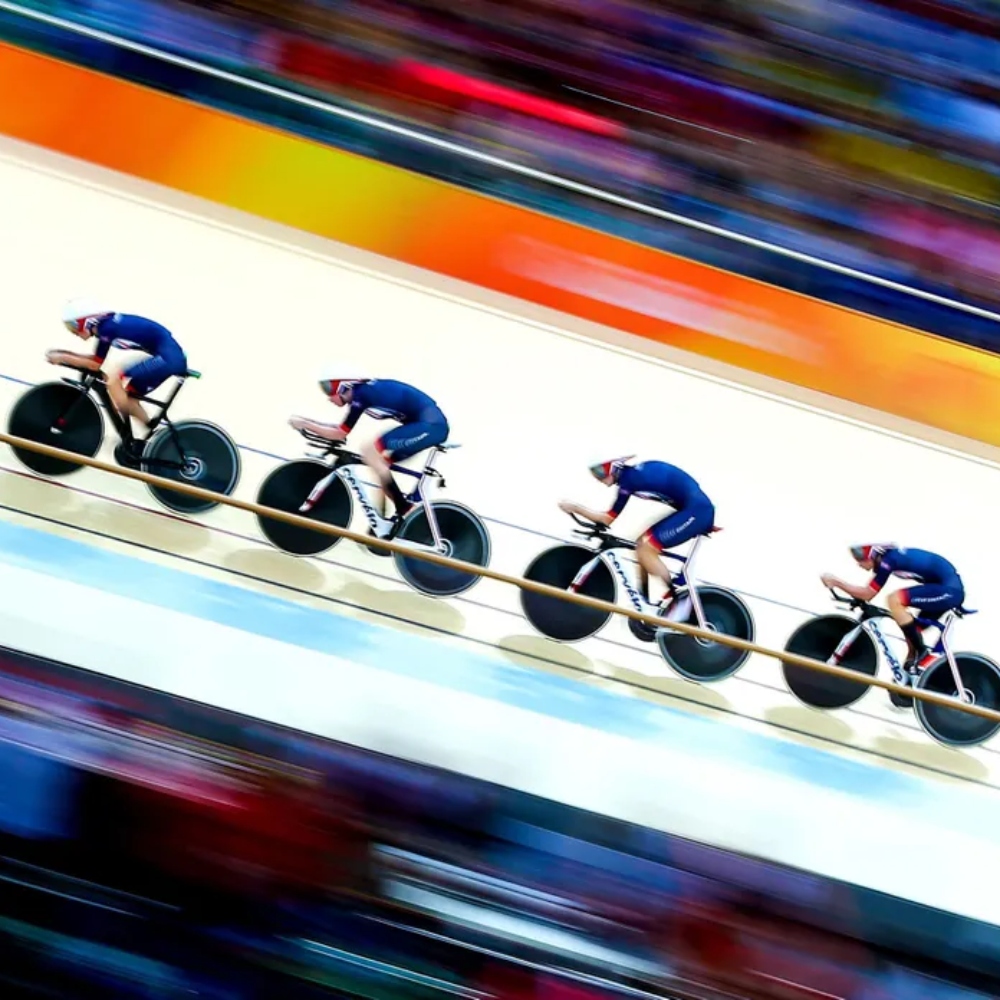 One of the cyclists, Laura Trott, is married to fellow Olympian Jason Kenny. Well, with that in mind, we think it's safe to say that their kids will have the craziest superpowers.
The Art of Relaxation
So, this is how Olympians unwind. Here we have Aly Raisman once again. In this photo, she's using cupping therapy in order to get the blood flowing in her legs. As a gymnast, blood flow is extremely important so this kind of therapy shouldn't be overlooked.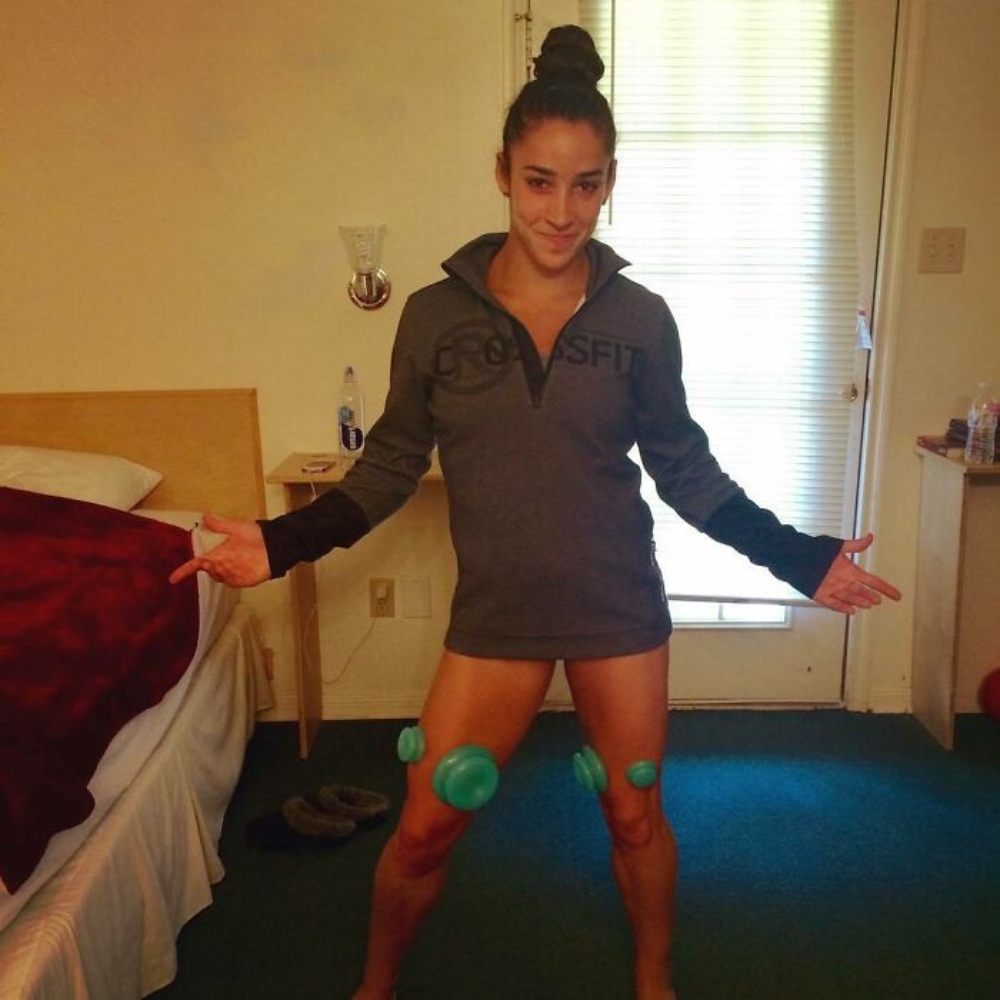 Alexandra captained both the 2012 "Fierce Five" and 2016 "Final Five" U.S. women's Olympic gymnastics teams, which won their respective team competitions.
Fabio Is Golden
The man flipping through the air in this photo is Fabio Basile and this is the moment his dreams came true. Fabio defied the odds by beating the Korean World No. 1 Judo titleholder. Now, let's just say that you wouldn't want to get on Fabio's bad side.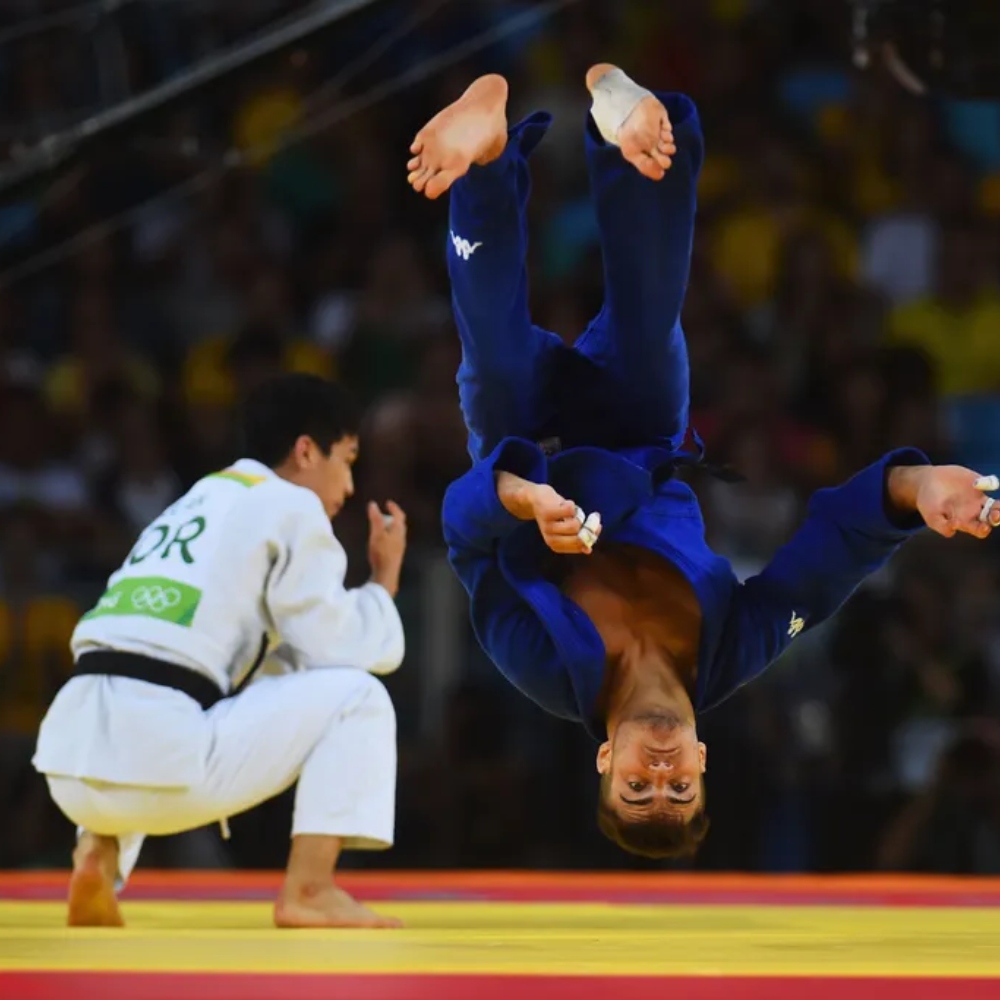 Imagine being the guy who he beat. You have just been defeated in the Olympic finals and you turn around to see that the guy who beat you is doing a celebratory backflip.
Alien X-Ray
This is going to take a lot of convincing but this is an X-ray of a human. And the human is perfectly fine. It looks as though it could be an x-ray for someone who has been in a very bad accident but this is just an Olympian performing an exercise.
If aliens came down from above, there's a very good chance they would look like this. It's the freakiest X-ray of all time.
Frozen Hands
It may look as if Alex Gregory's hands are frozen and in a lot of pain. But, these freaky hands are just a sign that he's transforming into Santa Claus. It's a Christmas miracle. Well, probably not because this photo is from the 30th of August.
In any event, as scary as Gregory's hands look in this photo, it makes sense considering that he embarked on an ultra-endurance expedition — The Polar Row. This expedition has captured 11 World Records, including the first man-powered vessel to reach the polar ice cap, which sits at the earth's northernmost latitude.
5 Rings
Now, that's how you celebrate. It's a wee bit unsettling that humans have now been able to harness the forces of nature. Soon enough you'll see Olympians throwing fire, blowing wind, and launching chunks of the Earth from one side to another.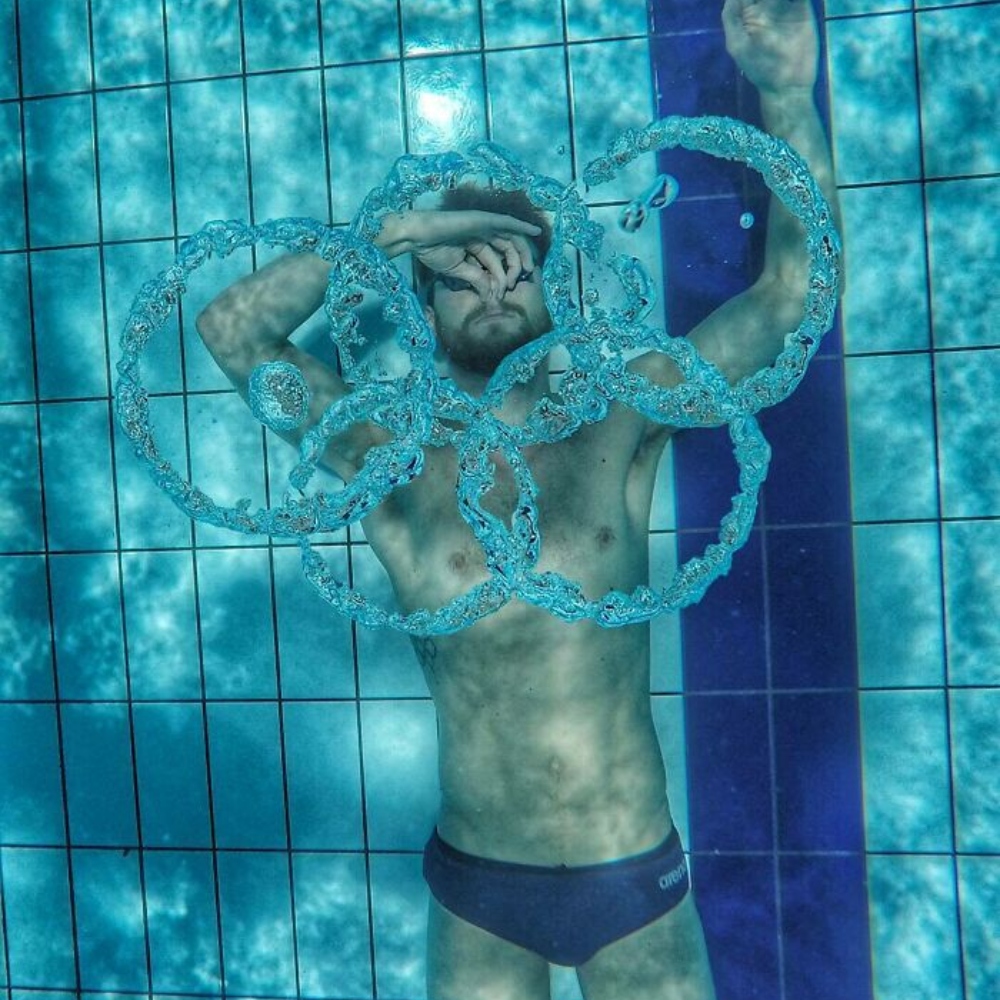 How do you even realize you can do this? So, it wasn't enough for this guy to just be an Olympic swimmer who's completely shredded. He also had to be the first human to control water.
A Woman of Many Talents
Is there anything Simone Biles can't do? She has won 32 Olympic and World Championship medals, and is tied as the most decorated gymnast of all time. Here, she's throwing the first pitch at the World Series but, of course, she's doing it with her own added flair.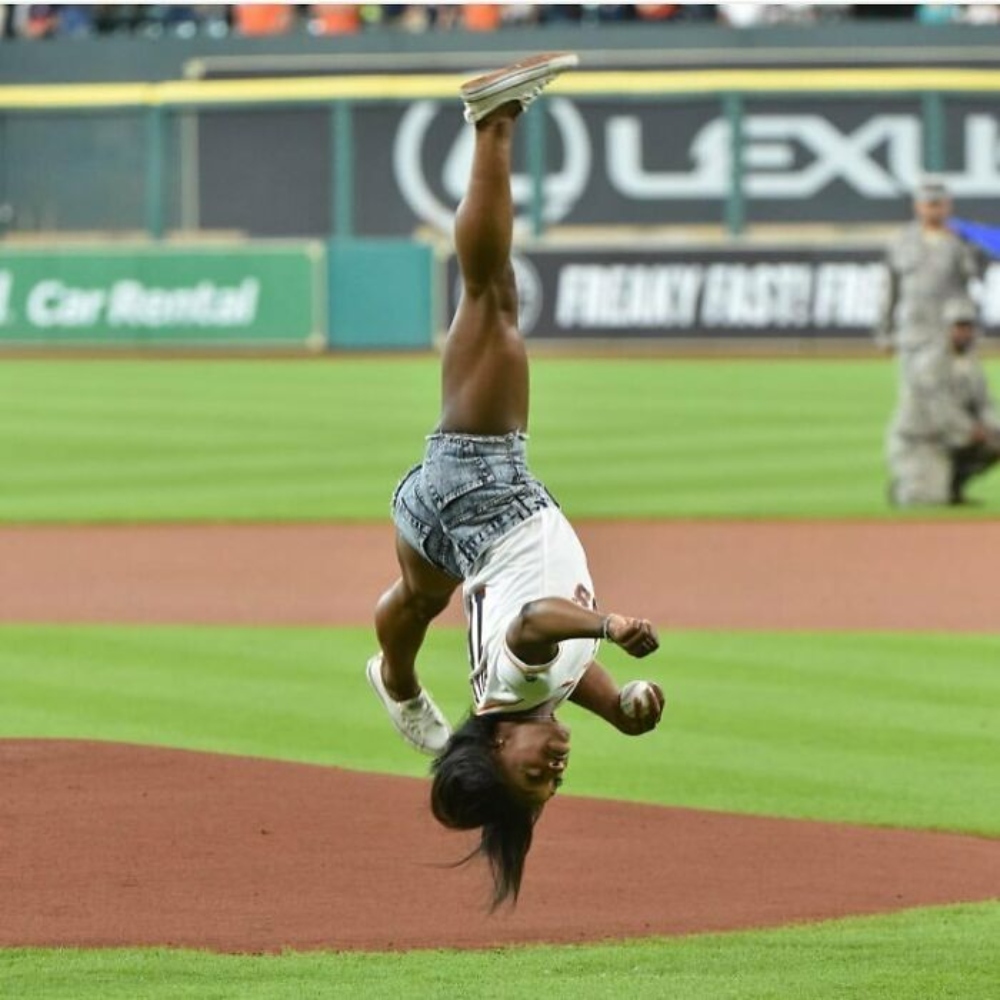 It's difficult to understand how someone can be so good at one specific thing. It's impossible to understand how Simone is so good at everything.
Cycling Is Dangerous
The biggest takeaway from this article is that cycling — and especially the Tour De France — is a dangerous game. This Olympian didn't get a spray tan that went very badly wrong, this is just a photo of his legs after finishing the Tour De France.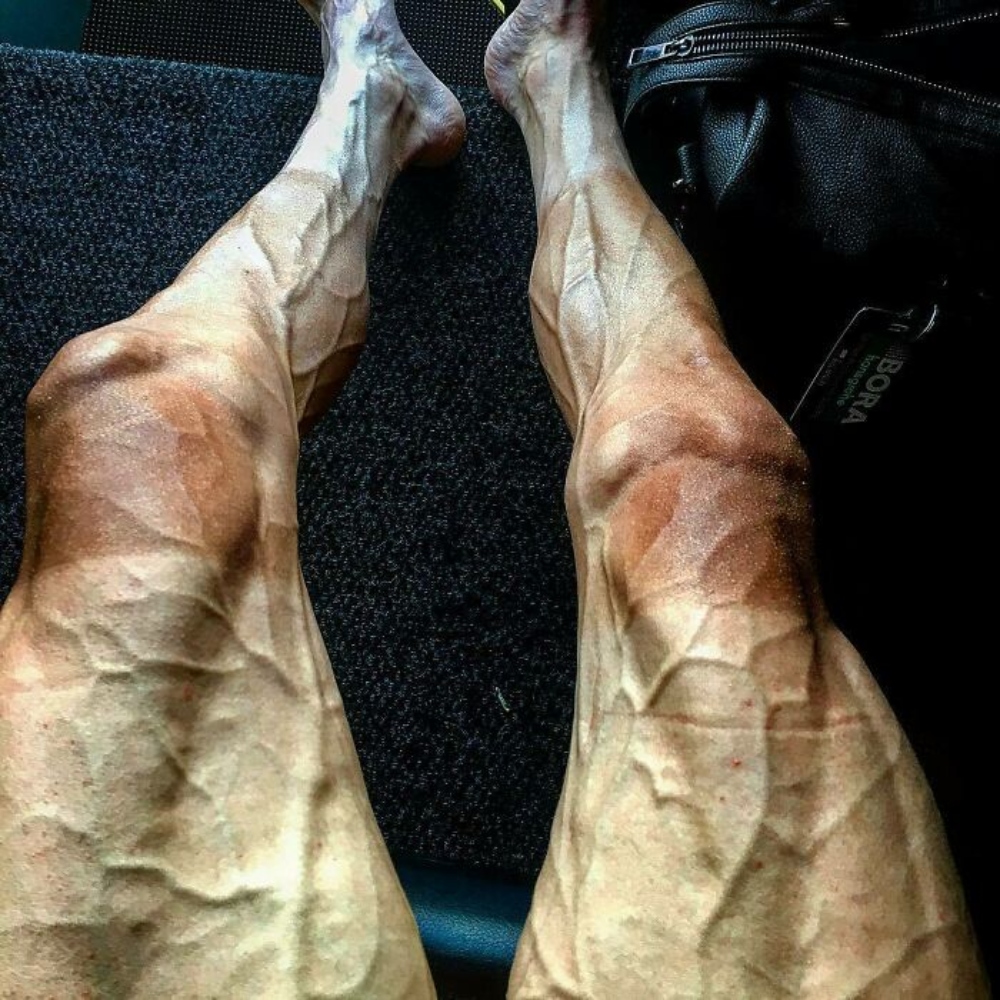 His legs are now three different shades. If this happened to someone we knew, we'd all be very worried. His feet look like they're about to fall off!
Thunder Thighs
Let's be real here — the thighs on these guys could crush you in two seconds. So, try not to piss them off, because it could end badly. In all honesty, we're just as scared as we are impressed.
After one look at this photo, there's no denying that these Olympians truly do give people a new perspective on the human body.
A Swimmer's Diet
What you're looking at is not a feast for five men. It's in fact Ryan Lochte's 10,000 calorie meal that he eats in preparation for the Olympics. Let's hope he brought his appetite.
We've all seen men that can eat this much in a day, but they definitely don't look like Ryan, as their abs are nowhere to be seen. This massive meal plan seems to be working as Ryan beat Michael Phelps in the 100-meter butterfly.